Gallery
Bedroom Closet Built-in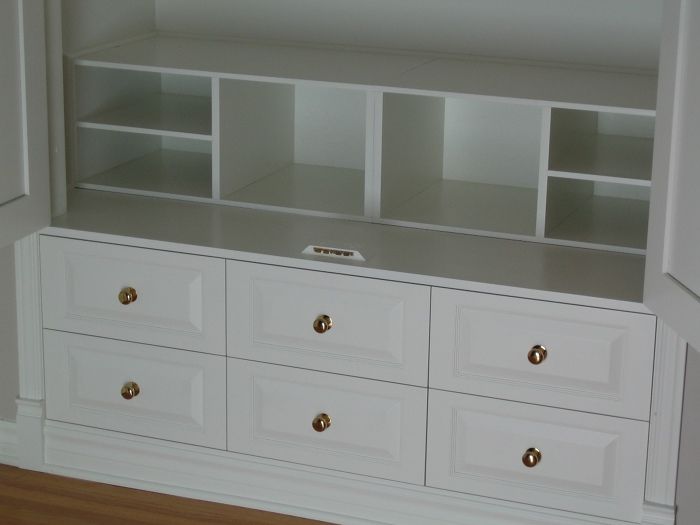 The starting point for this project was a typical bedroom closet with bifold doors. The first step was to re-frame the door opening to make it almost as wide as the inside of the closet space. The idea to go with painted bevel-edge raised panel doors and drawer faces stemmed from the customer's wish to have the unit blend-in with adjacent doors.
The frame and panel doors are roughly 30" wide x 60" high. The rails and stiles are 1 1/8" thick solid poplar assembled using floating tenons as opposed to the usual cope and stick approach. The raised panels are made from 3/4" thick solid poplar and were painted before the doors were assembled to account for seasonal wood movement. Each door rides on three SOSS #208 hinges, mortised into the door and the frame. Folllowed the manufacturer's recommendation and located the middle hinges much above the centerline of the doors. These hinges are amazing. Very accurate and very smooth.
The drawer faces are 3/4" thick solid poplar frame and panel construction. The drawer boxes are made from 5/8" thick solid poplar. They are roughly 15" wide x 26" long x 6" deep, assembled with through dovetails on all four corners. They ride on full-extension ball bearing self-closing slides.
The remaining elements are made from maple veneer plywood edge banded with solid poplar. The paint is 100% acrylic latex diluted at 10% and spayed using an HVLP system. All built and painted in the shop.
Drawer Unit and Inside Shoe Storage
Drawers on Full Extension Easy-Close Slides