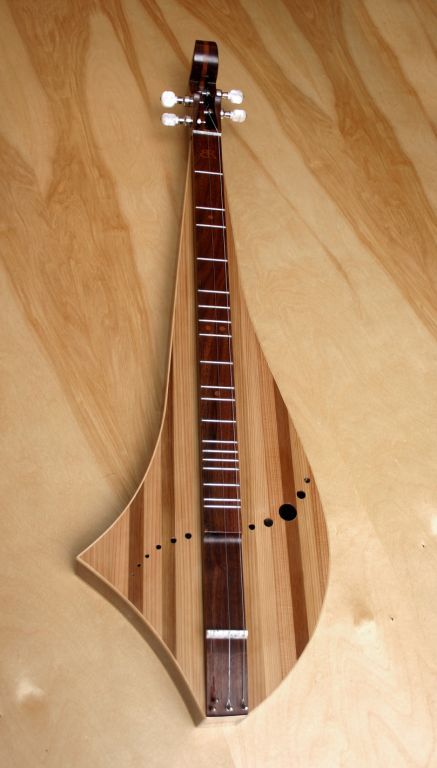 This is a Mountain Dulcimer in a non-traditional shape.
Top: Cedar strips left over from building a strip-built canoe.
Back and sides: Walnut that a friend was going to feed to his fireplace because it was splitting all over the place – basically falling apart. I rescued it by working an epoxy-charcoal mix into all the cracks using a credit card as a squeegee.
Peghead: A piece of cherry sandwiched between two pieces of walnut – all from pallet wood.
Fretboard: Walnut (not sure where it came from).
End block – Scraps of oak and cherry.
Bindings: Thin strips of basswood – cutoffs from pieces used to make guitar linings.
Nut and Bridge: Composite counter top material (like Dupont's Corian)
Bracing and linings (inside – not visible): Cedar, left over from the canoe.
The hardware (tuners, strings, frets, string pins) was purchased.
The purfling (decorative thin lines adjacent to the bindings on the sides) was also purchased.
Dulcimer - full view - non-traditional shape for a mountain dulcimer.
Dulcimer - top is made from strips of cedar. Sides are walnut.
Dulcimer - walnut back - walnut rescued by filling all the cracks with an epoxy-charcoal mixture
Dulcimer - Lower bout showing binding and purfling detail. End piece is oak and cherry.
Dulcimer - Peghead - Cherry sandwiched between walnut - from pallet wood