Shop Tips
Log Cabin Woodshop
In her restored log building, Karen McBride finds inspiration from her vintage machines and the old furniture that she has adapted and repurposed for workshop use.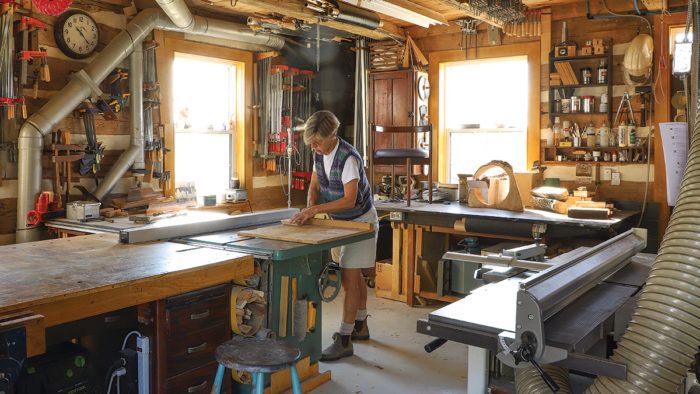 Synopsis: Karen McBride dismantled, moved, and lovingly restored an early 19th-century log building to serve as her workshop. In it, she finds inspiration from the building, the vintage machines (including a 24-in. Robinson bandsaw and a type-cutter's tablesaw), and the old furniture that she has adapted and repurposed for workshop use. Clever storage solutions are found throughout the shop.
---
As a kid I spent weekends at our family's old, derelict grist mill. The mill had no running water or power and its windows were large, glassless, gaping holes. It was like camping indoors, alongside millstones and massive pulleys and gears. Those weekends fostered a passion for decrepit musty buildings and mysterious machinery. So the seed was planted long ago for my shop of today, an early 19th-century log building that had stood vacant and deteriorating for decades when I found it, dismantled it, and rebuilt it on my farm in Ontario, giving it a solid foundation, new chinking, and packing it with woodworking equipment.
As I planned the layout of my log workshop, my affection for big vintage machines provided a constant reminder that workshops come in only one size, and that's too small. But space and machine layout were not my only considerations. All along the way my choices made the shop personal as well as functional. An inspirational workspace is important to me, as it feeds my soul and encourages me to do my best work.
Repurposed pieces
I often repurpose old furniture to make workstations or storage units. There are many examples in my shop, but let me describe one of the most notable. Created from an old mahogany kneehole desk, it is the outfeed table for my tablesaw. But it's a lot more than an outfeed table.
I removed the original desktop and replaced it with a subtop made by laminating four layers of 3/4-in. plywood, producing a 4-ft. by 5-ft. work surface that is massively strong and solid and cantilevers beyond the desk's original footprint. I drilled holes through the subtop on 4-in. centers across the whole surface, making it an ideal steam-bending table. I use holdfasts to fix bending forms to the subtop wherever I need them.
To make the table useful as a downstairs workbench (most of my handwork happens at a traditional joiner's bench upstairs), I bolted a sheet of 3/4-in. Baltic-birch plywood to the subtop, using insert nuts to facilitate easy removal. I drilled rows of holes through the Baltic birch (aligned with holes in the subtop) to hold bench dogs for a front vise and a Veritas insert vise. The holes are sized to work with Festool accessories too.
I drilled some additional holes in the benchtop that let me temporarily mount my mechanic's and guitarmaker's vises. Each vise gets bolted to a platform with two pegs underneath, and the pegs fit into holes in the benchtop. A hole in the platform accepts a threaded holddown that securely fastens the vise for brute force work. These auxiliary vises can be set up in a few seconds and just as quickly removed to restore the outfeed path for the saw. I cut stopped dadoes in the benchtop to accommodate the tablesaw's crosscut sleds.
The desk's kneehole cavity turns out to be a top-notch home for a shop vacuum. And with an air line dangling from the ceiling above, the desk is a fine place for sanding. The deepest desk drawer has enough room for six routers while other drawers store sanding supplies, screwdrivers, and wrenches.
---
| | |
| --- | --- |
| | |
| | |
| | |
---
From Fine Woodworking #286
To view the entire article, please click the View PDF button below.
View PDF