How-To
Rabbeting a Shelf for Strength vs. Appearance
When rabbeting a shelf to fit into a dado, is it better to put the rabbet on the top or the bottom?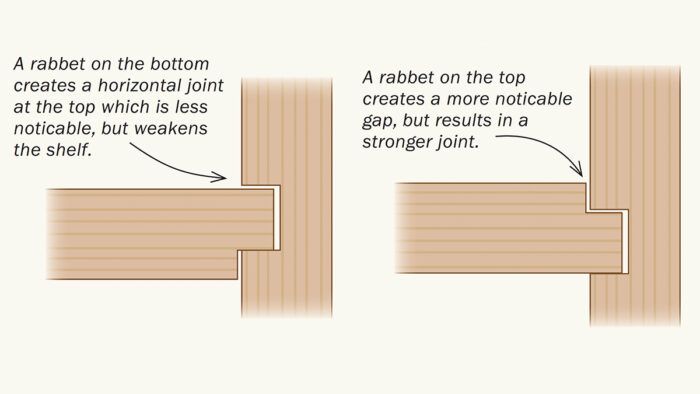 In most of the plans where I see edges rabbeted to fit into dadoes, the piece is installed with the rabbet underneath. I grant that this avoids any risk of a gap appearing if the rabbet doesn't seat fully either during construction or due to wood movement later, and if this is the bottom of a box it lets you make the bottom flush with the bottom of the sides while being stronger than simply setting the bottom into a rabbet on the sides.
But it seems to me that this orientation does not produce the strongest joint. Forces from above could theoretically split the fibers leading into the tongue away from the rest of the board.
If we invert this arrangement and rabbet the top of the board, weight on the board presses the tongue inward rather than pulling it outward. Now you would have to break the fibers leading into the tongue to make the joint fail, not just split the piece along its grain… and it should be able to bear significantly more weight as a result.
I know, wood is surprisingly strong stuff, so the cosmetic concerns may be more important in fine furniture. But if you're building something that will be heavily loaded such as workshop cabinets, "upside down" might be the way to go. Am I wrong? Am I just overthinking this? I presume folks like the UW Forest Products Lab have already run this experiment and could tell us.
—Joseph Kesselman, Arlington, Mass.
Like many things in woodworking, the answer is that it depends. You are correct that when you face the rabbet up, the joint is stronger, for exactly the reasons you outline. On the other hand, any potential chipping or gaps are more obvious, from the perspective of a viewer, who is, in effect, looking down into a vertical joint. With the rabbet facing down, the joint is less conspicuous and easy to pull off without visible gaps. That's because you are looking down on a horizontal joint. However, as you point out, the joint is also a bit weaker that way. The best woodworkers will consider all of these factors when choosing which way to orient the rabbet.
—Asa Christiana, Workshop Tips editor