How-To
How to Upholster a Slip Seat
Michael Mascelli demonstrates how to create a finished, professional-looking upholstered slip seat.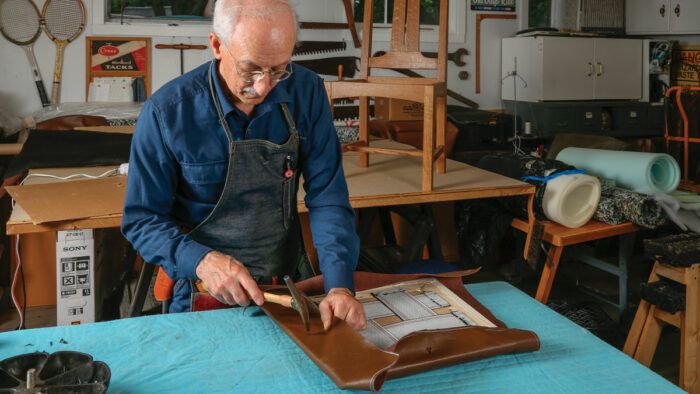 Synopsis: From the frame to the webbing to the foam padding, upholstering a slip seat is a relatively simple task that depends on quality materials used with skill. Here, Michael Mascelli demonstrates the one style of slip seat and how to get a finished, professional look.
---
Perhaps the most common task in furniture upholstery is the familiar slip seat, so named because it often slips into a rabbeted recess in the chair frame. Some slip seats, like the one I'm upholstering here, for Mike Pekovich's Arts and Crafts side chair, sit on top of the frame and get secured from underneath through glue blocks. Despite their simple form, slip seats offer a number of options for both the look and feel of the finished chair. 
Sources of Supply – Check out Mike Mascelli's recommendations
for what tools to get when starting an upholstery project, and where to get them.
Webbing provides support
The success of the upholstery depends on a well-made upholstery frame, and here I used common poplar; other good choices are medium-density woods like soft maple, birch, or white ash. I prefer air-dried wood for upholstery frames, as kiln-dried stock can case harden, making the surfaces difficult to tack or staple. The frame members are 3⁄4 in. thick and joined with sturdy glued half-laps at each corner. This seat has a traditional angular look with a 45° beveled edge on top. A rounded edge would be fine, too. All the sharp sawn or planed edges and corners are eased with sandpaper or a block plane to ensure that nothing cuts through the cover material.  
The support system for the seat is upholstery webbing. You can use either traditional red-stripe jute or a modern synthetic webbing, both of which are 3-1⁄2 in. wide. After 40 years of using red stripe, I have come to appreciate synthetic webbing as another good option. The synthetic does not stretch out and rot as the jute does over many years. Either choice will provide years of good service. Here, I am using the red stripe.
To view the entire article, please click the View PDF button below.
From Fine Woodworking #292
While visiting a local tag sale, professional upholsterer Michael Mascelli came across one worker's complete upholstery tool kit from the early 20th century

Time-tested tools and materials still give the best results, and anyone can do it.

 

Upholstery might seem intimidating at first, but making a comfortable seat cushion is well within the skillset of any woodworker.
View PDF