Projects and Plans
A Light Settee in Cherry
Straight lines simplify the design of this settee, and a woven seat adds character.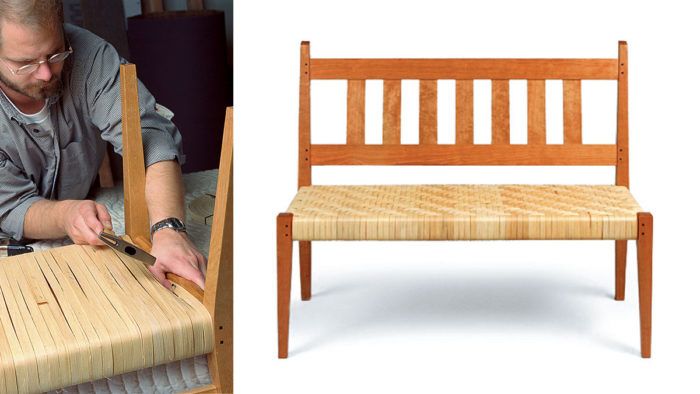 Synopsis: A comprehensive article on building a contemporary cherry settee, including a detailed project plan, tips on shaping and assembly, techniques for making a story stick that does double duty as a leg template, and a section on weaving a traditional reed seat.
I can't draw well, but it's never kept me from trying—on newspapers, leases, whatever happens to be in front of me. Andwhen I needed a coffee table, I was drawing them everywhere. One design began on a Post-it note while I was on the phone—which may explain, in retrospect, its odd transformation. When one table leg turned out a little canted, I drew another line off the back, making it a chair. Then when I tried to turn the chair-like doodle into a perspective drawing, the lines were too long—yet further proof that I can't draw. But when I looked back down, my coffee table had turned into a vaguely elegant settee. I drew little crosshatched lines across the seat and was rather pleased.
I spent a bit more time on later drawings: I designed a stretcher system, tried two dozen shapes for the back and various seat treatments, but in the end I kept returning to the Post-it note sketch of my coffee table. I liked its lightness and the simplicity of its straight lines. I bumped up the size of the seat rails to avoid using stretchers and to give the undercarriage a more delicate look. And I chose to use a woven seat for its light appearance.
My settee appears rooted in the Shaker and Arts and Crafts traditions, but the woven seat and walnut accents lend the piece a contemporary look, which suits my tastes. It's a small, low bench, perfect for an entryway or along a short wall.
Building this settee calls for only about 15 bd. ft. of wood—8/4 for the legs, 5/4 for the seat rails and 4/4 for the back. I chose cherry because it is easily worked with hand tools and because its light color lends the unimposing look that I
wanted the piece to have. But the design would work just as well using other woods.
From Fine Woodworking #147
View PDF