How-To
Rout Perfect Hinge Mortises
A simple jig guarantees headache-free installation.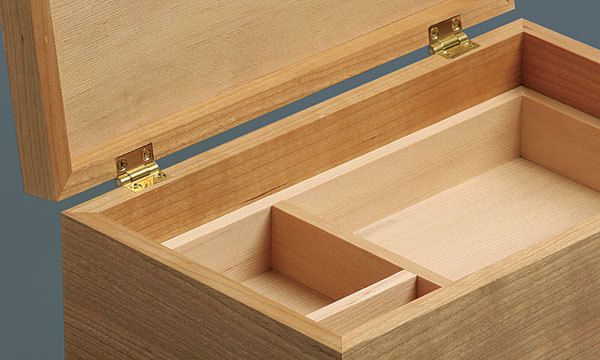 Synopsis: When building a hinged box, it can be tough to get the mortises right. Any misalignment in the top or bottom mortise can cause binding or a gap. This simple jig eliminates the worry, giving you hinge mortises that are the right size and aligned perfectly. Made from MDF, it uses a constant reference face to ensure accuracy. Each jig is sized to fit a particular hinge, but it's easy, so you can make multiple ones.
---
If you've ever built a box with a hinged top, you know how tough it is to get the hinge mortises right. Any misalignment in the top or bottom mortise can cause the hinge to bind or leave a gap between the top and bottom when the box is closed. I've made a lot of hinged boxes, and I used to have trouble with the hinge mortises whether I cut them by hand or freehand with a router. Not anymore. Now I use a simple jig that allows me to rout each mortise quickly and then square it up with a chisel. they end up the correct length, width, and depth, and the bottom and top mortises are always aligned perfectly.
The jig is easy to make from inexpensive 1⁄2-in. MDF. the plate has a notch the exact size of the hinge leaf, and takes into account the location of the hinge barrel, which is the rotational axis of the lid. If the barrel is not outside the edge of the box, the lid will bind and won't close properly. A small dado on both faces of the plate houses a fence that helps locate the mortise's inset from the box side. You need a dado on each face so that the jig can be used for all four hinge mortises on a box.
My favorite thing about the jig is that it works for any box that uses the same hinge—no matter how big the box is, the hinge can be inset the same distance (1 in. to 11⁄2 in.). make the jig once, and use it for years to come.
Hold down and rout. Place the fence against the box side and align the edge of the plate flush to the back of the box. Then clamp the jig in place. A quick pass with the router clears most of the waste. Keep the jig clamped in place. Square up the mortise with a chisel.
From Fine Woodworking #249
For the full article, download the PDF below:
View PDF