Blog
Dovetailed Salt Box
Practice your dovetails while making something useful.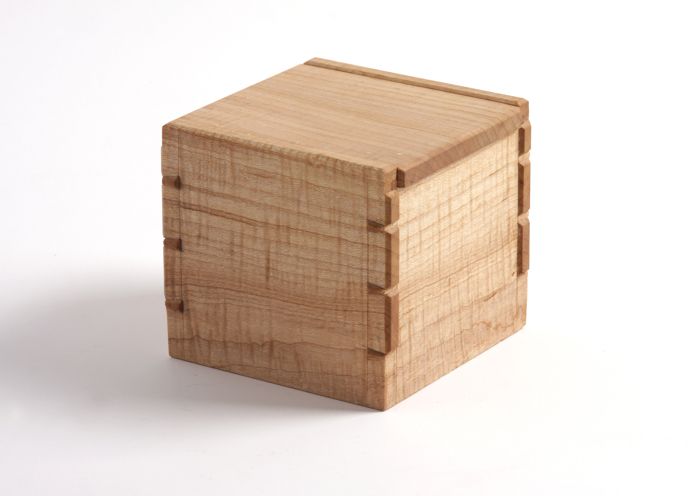 A salt box can be used on the counter while baking, or brought to the table during meals, where a little pinch of salt will always be close at hand.
This past Christmas I made three of these boxes as gifts. Each was a bit different in design, but all were made from the same piece of maple, saved from the cord wood stack. The fun part of this project is cutting and fitting the mitered dovetails at the bottom of the box. This joint allows you to put the bottom in the box without cutting tiny stopped grooves to hold it in place. Simply cut an 1/8 inch groove at the top and bottom of the board before cutting the parts to length. The top groove holds the sliding lid and the lower groove holds the bottom.
All parts are 1/4 inch thick with 1/8 inch grooves and tongues. Finished with food safe mineral oil and a coat of bees wax on the exterior.
All parts being fine tuned.
Detail of the mitered dovetail at the bottom.
Detail of the chamfered pins.
A single board offers a nice continuous grain.
A simple sliding lid for the top.
Here are the two other versions. The box on the left has the natural surface left on the lid. The box on the right has a slight curve added, narrowing towards the top.