How-To
4 Ways to Top a Box
Low-tech lids open without hinges.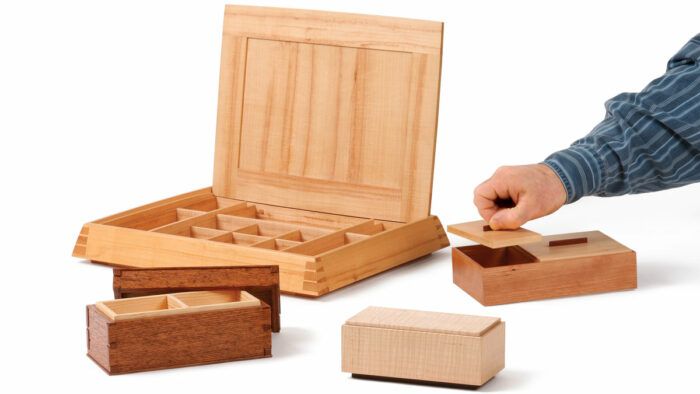 Synopsis: Boxes are fun to make and don't cost you much in materials or time. In fact, there's nothing about making a box that is tedious, except perhaps installing the hinges. Of course, without hinges you need to figure out another way to keep the top on. We've solved that problem with four box designs that use other methods to keep the top on: inserts, a box within a box, a lid dropped into a rabbet, and a lid that tips up and stands "on its own."
---
Boxes are fun to make and can be a pleasant diversion between larger projects. With a bit of nice wood and a clever design, you can turn out a beautiful box in just a few hours. But there is one part of making a box that is never fun: installing high-quality hinges and getting them just right. And don't forget that you also have to buy them, for a box that might otherwise cost you nothing more than some leftover cutoffs.
You can avoid that hassle by making a box without hinges. Of course, you'll need another way to keep the top on, but the challenge of figuring out how to do that can lead to elegant and unique designs. Here are four great ways to do it. One is mine, one is from a FWW author, and two are from FWW's art director and most prolific woodworker, Michael Pekovich.
Inserts hold the top in place: One of my favorite ways to make a box is to glue up the sides, top, and bottom as a single unit. Once the box is assembled, I simply slice it in two. One half becomes the box, the other, the lid. To avoid hinges, you need some way to align the lid with the box. The answer is a handsome liner that extends above the edge of the box and keeps the lid snugly in place.
One box tops another: I see this box as a stripped-down version of box No. 1. Here, the bottom of the box acts like its own box liner. The lid nests over it almost completely, so lifting it off is like revealing a hidden box. Make the two out of contrasting woods for a more surprising revelation.
Drop the top into a rabbet: I wanted a box with a modern look and a thin top. So I gave a contemporary turn to the old trick of holding the top in a rabbet, putting in a full-height divider that splits the top in two (something that would have required four hinges in a traditional box). By the way, the lifts are attached with cyanoacrylate glue.
From Fine Woodworking #225
For the full article, download the PDF below.
View PDF