DIY dowel maker
Trevor Robinson demonstrates how to make dowels without a lathe.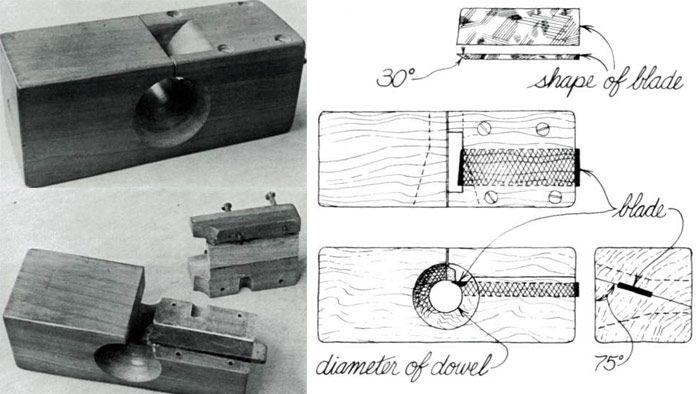 Originally titled "A Dowel Maker" in Fine Woodworking #8—Fall 1977
---
Because commercial dowels in large diameters are expensive or hard to get, it is useful to make your own with the tool shown here. Properly sharpened and set, the tool turns easily around a square length of hardwood, cutting it smooth and round in a simple pass.
The body of the tool is made from a block of hardwood about 2-¾ in. square and 7-½ in. long. First locate and bore a hole the diameter of the desired dowel. Then on the lathe, a conical depression is turned to meet the hole so that about an inch of cylindrical bore remains. For a 1-in. Dowel, the mouth of the cone is 2-⅛ in. wide; for other dimensions the cone should allow the square of wood to enter about ½ in. before it encounters the cutter. This means that the large diameter of the cone is about twice the small diameter. The next step is to drill the holes for the four screws that will fasten the two sections together. By drilling them before sawing the block, alignment is automatic. Two saw cuts separate the clamping section from the main block. Mating channels are then chiseled alone the inner faces of the two pieces to hold the cutting blade, which is just a saw kerf thicker than the resulting channel. Thus the cone remains smooth, and the screws hold the blade tightly.
Blades can be made from old files. The file should first be annealed by heating red hot and cooling slowly. Then a suitable length can be cut off and shaped. BEfore the final sharpening the cutter should be retempered by heating red hot, quenching, and reheating to 475° (light-orange oxidation color) before the last quench.
[Editor's note: If you want an alternative blade, chairmaker and FWW author Tim Manney has used a plane blade for a similar tool.]
The position of the cutter is very important for getting a smooth dowel. The heel end of the cutting edge should just graze the surface of the finished diameter so that the dowel is a snug fit as it comes through. Waxing the boew will make it go more easily. The square of wood to be cut should be just sight larger than the diameter of the dowel—about 1-1/16 in. square for a 1-in. dowel. It helps to chamfer the four corners at the leading end of the piece to get it started without splintering. Then the wood can be held vertically in a vise and the tool turned without forcing it down. With a sharp, properly positioned blade the weight of the tool is enough to keep it moving along the wood.
| | |
| --- | --- |
| | Master wood scientist Bruce Hoadley explains why round tenons fall out of round holes—and offers a workaround compromise. |
| | Learn the basics of dowel joinery in this video on making a Shaker nightstand. |
| | Complete the desk joinery and then dry-fit the entire desk to make sure everything goes together smoothly. |