Use your workbench as a vertical glue-up station
Pipe clamps and lower stretchers serve to stabilize panel glue-ups using your workbench.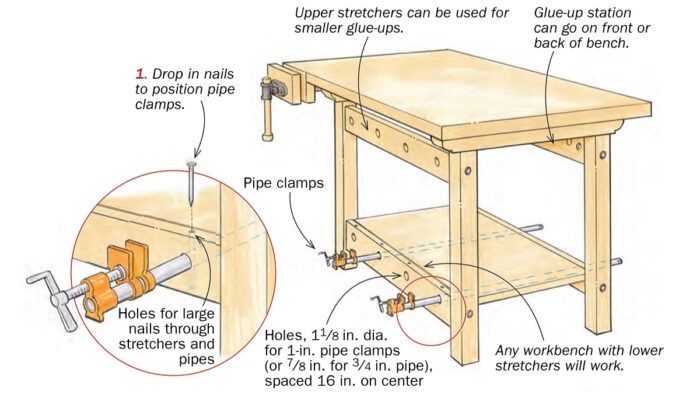 I've been working wood since my early 20s, and I've always found panel glue-ups to be both stressful and space-consuming. Tired of tying up my outfeed table for hours at a time, I came up with a vertical glue-up station that's both effective and efficient, and takes up minimal shop space.
I used a wheeled workbench to set up my station, but any workbench will do as long as it has low to mid-height stretchers in the base that will hold pipe clamps as shown. If you have upper stretchers or wide aprons on your bench, you can place holes and clamps there for smaller glue-ups, so you don't have to bend over. But I usually place the pipe clamps in the lower stretchers, so I can rest the clamping cauls on the floor.
By the way, you can still work on the benchtop with a glue-up in place, and afterward, you can either slide the clamps back and out of the way or remove them altogether. The setup can also go on the backside of a workbench, keeping it completely out of the way.
I used 1-in. pipe clamps, but 3/4-in. pipes will work too. Drill the holes as squarely as you can. To prevent the clamps from spinning and ensure that they project the same amount from the front of the bench, I drilled small holes in the pipes and stretchers, so I can simply drop a nail down into each pipe. The cauls are flat, straight maple beams with tape along the inside faces to make it easy to remove dried glue.
To use the setup, I position the pipe clamps as needed, place the first board in the clamps, and tighten them. After running glue along the top edge of that board, I clamp cauls onto it. I drop the next board into place between the cauls, run glue along its top edge, and so on, until all boards are positioned. Then I clamp the tops of the cauls, and finally, run clamps from top to bottom to draw the joints together, alternating them on each side of the glue-up.
—BRIAN IRVINE, Telkwa, B.C., Canada
Illustrations by Dan Thornton
From Fine Woodworking issue #303