Benchmarks: David Johnson — From humble beginnings to weaving with ease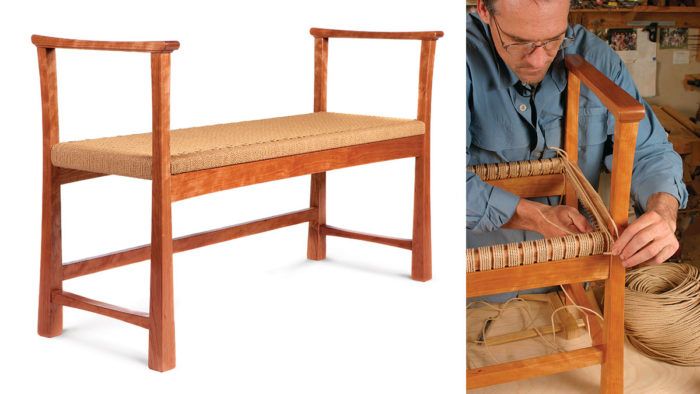 "Don't worry!" James Krenov said to us on our first day at school at College of the Redwoods, now the Krenov School—but worry I did. Imposter's syndrome was setting in as I had only been woodworking for about a year as of that fall day. I decided then and there to keep my head down and stay quiet lest anyone find out.
I came from a family of mechanics, farmers, and welders. Fine woodworking was a mystery to me. Just beginning seemed so daunting. I was fascinated by the techniques, history, material, and of course, the tools. I got books 1 and 2 of Tage Frid Teaches Woodworking, and with his informal writing style and multiple methods to achieve the same result, the walls preventing my start came down. Patrick Stafford, a former CR student and instructor, encouraged me to read James Krenov's A Cabinetmaker's Notebook. Patrick became my first teacher, and with his help, my progress accelerated quickly. As well as that, I read every issue of Fine Woodworking cover to cover along the way, finding that the magazine represented current happenings in the woodworking community.
The first person I saw weave a seat was a fellow student, Mark Edmundson, who was building his beautiful, Scandinavian-inspired bench. By recommending the book available at the time on seat weaving, he pointed me in the direction that led where I am today. His article on the build and weave of the bench is a must read for anyone interested in woven chairs.
I've read plenty of technical articles—even the ones that aren't relevant to the designs I'd like to make—but my favorites are the profiles of the makers. Shortly after graduating, I was happy to read Hank Gilpin's article about being a student of Tage Frid, an early contributing editor for the magazine. Gilpin confirmed Tage's practicality and sharp wit that came through in his writing.
Recently on a sleepless night I found an old article by the designer and author, Per Mollerup, which covered a show in Copenhagen in 1978 featuring many Danish Modern designers. Alongside this show was an exhibit of Krenov's work at the time. Krenov's design and building methods were vastly different than the designer-led furniture we connect to Denmark from the midcentury era. Krenov was very much a part of the Scandinavian canon and having his work shown in proximity to the likes of Hans Wegner strengthens his links to it.
Before I open any new issue, I scan the front and then flip the magazine to the back cover. Surely, I'm not alone in this habit. The back cover consistently profiles the best and most interesting work being done today. Heidi Earnshaw's dresser on the back cover is a masterpiece. Some of our most interesting work is hidden from view in the finished pieces, but Earnshaw's cabinet forgoes the embellishments and makes the mechanics of the piece a design element.
I'm humbled to have contributed to Fine Woodworking and will continue to keep the same enthusiasm I had on that first day of school. I hope in this new year you'll be able to weave in more shop time.
David Johnson
This Scandinavian-inspired bench features straightforward joints, graceful curves, and a woven cord seat.

Mark Edmundson

A former student of Tage Frid describes the extraordinary experience of being taught by the Danish master

Hank Gilpin

A 1978 exhibit features James Krenov and other Copenhagen cabinetmakers.

Per Mollerup

Heidi Earnshaw's white oak seven-drawer dresser is based directly on the 18th-century French semainier form, which had one drawer for each day of the week.

Jonathan Binzen