Tools to look out for this fall
Grizzly Bear Roll Outfeed Roller System T32428, Milwaukee 2831-21 M18 Fuel track saw, Union Mfg. Co. replacement plane irons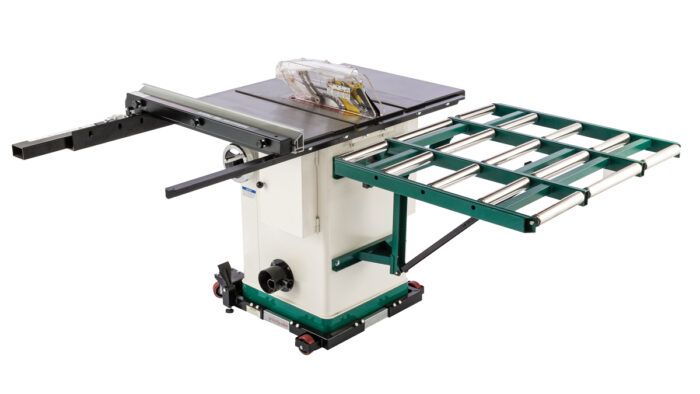 Collapsible outfeed table
Grizzly has developed its Bear Roll Outfeed Roller System (T32428), a collapsible outfeed table that attaches to the back of a cabinet saw or other tool with a solid base. The surface measures 36-1⁄2 in. wide and 40 in. long, including the mount. Owners will need to drill into their tool's base to mount the outfeed table, for which Grizzly supplies a template and directions. Once installed, the table raises and lowers without the need for tools. Grizzly does not recommend the T32428 for open-base tools, such as hybrid tablesaws.
Cordless track saw
Milwaukee's model 2831‑21 cordless M18 Fuel track saw has a 6-1⁄2-in. blade and built-in riving knife, and it's compatible with Milwaukee, Festool, and Makita guide rails. The arbor size is 20mm. Its maximum cut capacity is 2-1⁄4 in. Its bevel adjustment ranges from -1° to 48°. The saw weighs just shy of 10 lb. without a battery.
Original thickness replacement iron
Union Mfg. Co. has developed a 2-in.-wide plane iron for No. 4 and No. 5 planes. At 0.090 in. thick, the iron should replace stock irons from original manufacturers such as Stanley, Record, Millers Falls, Sargent, and Union Plane Co. without the need to adjust the plane. The irons are made from O1 steel hardened to RC 61–63.
Photos: courtesy of the manufacturers