300 issues and counting
Even after 179 issues, Michael Pekovich is as big a fan of the magazine as he was on his first day on the job.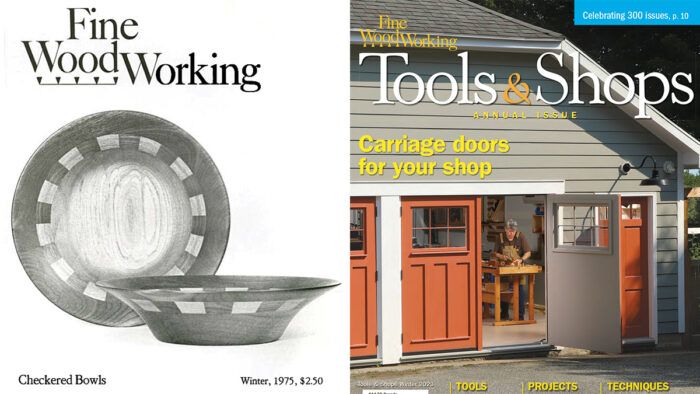 While I typically prefer to talk about woodworking rather than magazine making, I did want to take a minute to note that this issue represents the 300th time we've managed to write, edit, lay out, and ship to the printer an issue of Fine Woodworking. It is the 179th time I've been through the process myself. Starting with the layout of an article on spokeshaves by Mario Rodriguez, my first issue at the magazine, #122, was one of the most challenging and mentally exhausting feats I had ever attempted. It was also the greatest lesson in woodworking that I had ever had. I was filled with relief and taking a breath after the issue had shipped only to have Bob Goodfellow, the art director at the time, say "OK, let's do it again."
Over the years, I've realized what a great luxury it is to have an occupation where you are tasked with making something as good as it can be. I can attest to the fact that every word, photo, and illustration in every issue is crafted with the utmost care and effort by a small group of incredibly talented people who are as passionate about woodworking as they are about making a magazine. However, one thing that has remained constant over my 25 years at the magazine is the oft-heard comment, "I liked you better back in the old days." I've never had a good response to that. I like the old issues as well, but today's issues are so much more than just a printed magazine. While I like to think that it will always be the anchor of the brand, today each printed issue is surrounded by a wealth of online content and resources. Readers have access to multipart, in-depth video workshops, a library of downloadable plans, a series of online project guides, and of course a complete archive of every issue that was ever printed. There are also blogs and a podcast covering not just the history of the craft, but also up-to-the-minute trends, designs, techniques, and makers. In total, Fine Woodworking today offers a richer experience than I could have ever imagined.
Forgive me if this sounds like a sales pitch, but I am as big a fan of the magazine and the craftspeople that make it great as I was on my first day on the job. If you have been along for the ride, I sincerely thank you. If you are just jumping on board, I'm confident you'll find the inspiration and information you're looking for.
—Michael Pekovich
---
| | |
| --- | --- |
| | How Fine Woodworking influenced generations of woodworkers |
| | The No. 112 plane scraping plane from Lie-Nielsen weighs 4 lb. and comes with a 2-7/8-in-wide blade. |
| | Recalling an afternoon spent with the master. |