Lie-Nielsen - Scraping Plane No. 112
The No. 112 plane scraping plane from Lie-Nielsen weighs 4 lb. and comes with a 2-7/8-in-wide blade.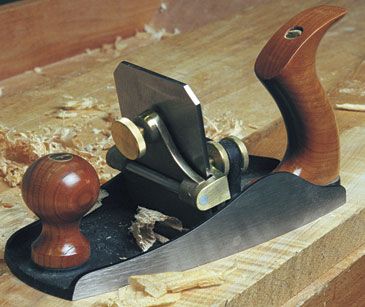 When I first put the new Lie-Nielsen No. 112 large scraping plane to work, I was dismayed by what happened. The tool chattered terribly and left deep ridges in a plank of hard, curly maple. I angled the blade forward a bit and set it for a very shallow cut. Performance improved, but still I experienced some chatter.
After I looked at the instruction sheet, the answer was plain. I was fighting the tool. A scraper plane, the instructions explained, requires very little downward pressure, especially on the forward knob. And instead of the long, slow, deliberate strokes required by a smoother, the scraper seems to favor quicker, shorter swipes. Pulling the scraper also works well, especially in problem areas.
I practiced on some friendlier lumber—straight-grained mahogany, cherry and, finally, some quartersawn white oak with ever-improving results. Then I went back to the original curly maple plank and was able to turn it into a nicely smoothed board using my improved technique.
The Lie-Nielsen No. 112 requires some fine-tuning and finesse to operate. Once you get that worked out, the tool handles unruly wood well and will spare a lot of burned thumbs on big scraping jobs. Considering what an original Stanley No. 112 fetches at tool auctions these days, the Lie-Nielsen's $195 price tag is a bargain.