Tool review: Rockler Precision Miter Gauge and Miter Gauge Fence
Chris Gochnour tries out Rockler's new Precision Miter Gauge and Miter Gauge Fence.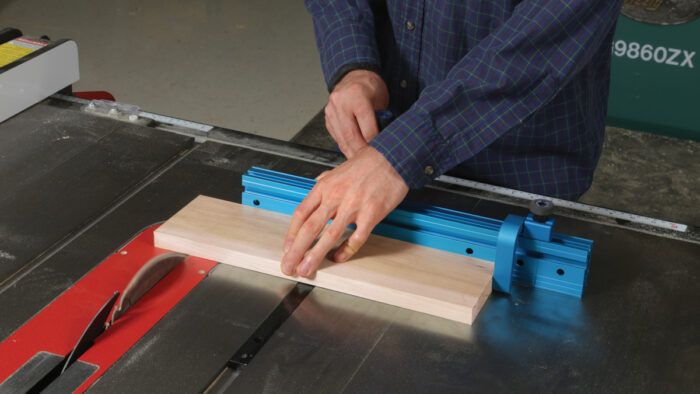 I had the opportunity recently to try out Rockler's new Precision Miter Gauge and Miter Gauge Fence. The setup is simple and effective, and the gauge in particular works well. I used the miter gauge and fence in the shop for several weeks, and they both performed dependably, whether making square cuts, 45° cuts, or miters for an octagonal frame. All in all, the Rockler miter gauge makes a beneficial addition to a tablesaw. The fence is nice too, but with some caveats. 
The guide bar was easy to tune for a precise fit in the miter slots via four nylon set screws. Once set, the bar tracked smoothly and precisely. The front face of the gauge was accurately plumb.
The protractor head has detents for accuracy. In addition to one at 90°, there are detents at five common angles on each side of the head. There's also a detent that positions the guide bar parallel to the fence for ease of storing. The bar even has a large hole for hanging, making storage a snap. The detents are not microadjustable to the bar, but my gauge came square out of the box anyway.
The gauge has a high-contrast protractor scale that is easy to read and align with the gauge's hairline indicator. A tall handle locks the head in various positions. Additionally, there are knobs for securing a sacrificial fence, meaning all adjustments on the gauge can be made without additional tools. An added plus is that all the knobs and adjusters are easy to grip.
The fence is made of lightweight anodized aluminum. At the end of the main fence is a short section that telescopes out. A flip stop for setting repeat cuts slides along the top of the fence, though there is no measurement scale. Included with the fence is a removeable melamine face for zero-clearance cuts.
The fence is a nice, simple idea, but I should note that the telescoping arm, when tightened, extends forward of the main fence by 0.010 in. This pushes the workpiece slightly out of square.
| | |
| --- | --- |
| Flip stop is a convenient timesaver. With a flip stop, you can alternate between squaring the ends of boards and cutting them to equal length without the stop getting in the way or you losing your setting. | Telescoping arm is a stretch. The fence worked well, but not with the arm. When the arm was extended, it was slightly forward of the main fence, interfering with square cuts. |
—Contributing editor Chris Gochnour stands behind a tablesaw in Salt Lake City.
Photo: Barry NM Dima