Reverse the miter gauge to reverse the angle
You don't have to flip the workpiece to cut a matching angle on the opposite side.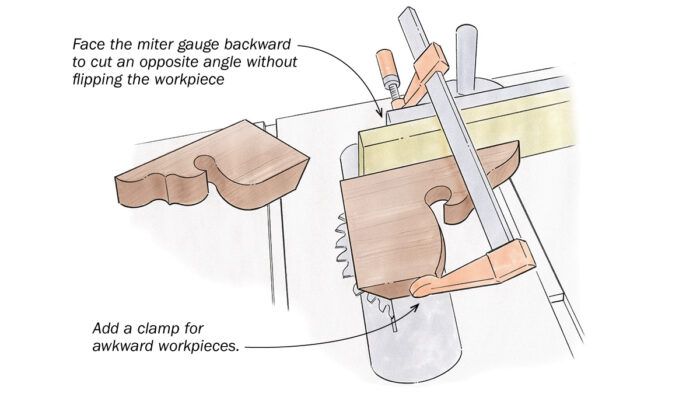 After mistakenly shaping the halves of four bracket feet before cutting their miters, I ran into a common problem: The table-saw blade only tilts one way. When that doesn't match the angle you need, you have to flip the workpiece, which doesn't always work for the task at hand. This was the case with the shaped bracketfeet parts, which only had one straight edge left to rest against the miter fence. It comes up in other mitering situations too. It dawned on me that reversing the miter gauge in its slot—with the fence facing toward me instead of away—would solve the problem. The gauge works just as well this way, but you might need to change the position of its fence.
—JIM MURTHA, Lancaster, Ohio
Illustrations by Dan Thornton
From Fine Woodworking issue #305