Tool review: JessEm Mite-R Excel II miter gauge
Find out why Chris Gochnour calls the new JessEm miter gauge the best he's ever used.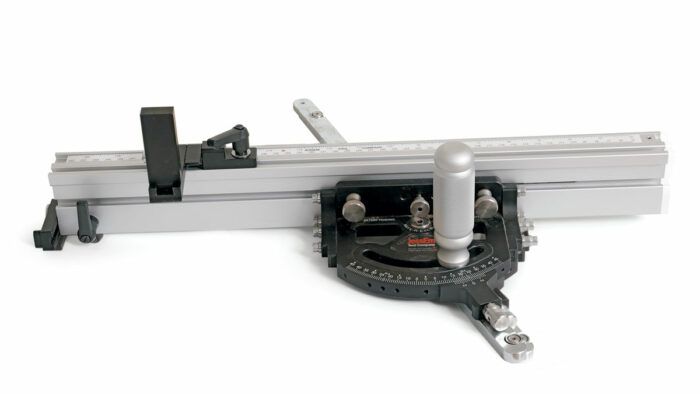 Miter gauges are crucial for precision work, and many have a handful of important features. But I'd never found the complete package until the JessEm Mite-R-Excel II. Over the past few weeks, I used the gauge while building furniture in my shop. I've made square cuts, a range of miters, and used the fence and flip stop to cut multiple parts at set lengths. The cuts always came out precise. This is the best miter gauge I've ever used, and I've already purchased one for myself. 
The gauge has a quick and easy method for fitting the guide bar precisely to your tablesaw's miter slot. This means the gauge can be recalibrated if necessary for continued accuracy. The face of the protractor head can be adjusted square to the table and also square to the guide bar. This ensures accurate cuts, and it, too, can be readjusted if the need arises.
The protractor head has stainless-steel knobs and fittings and high-contrast, easy-to-read white numbers and increments. 
Setting the protractor head is a breeze. A spring-loaded indexing pin locks the head at nine different positions. You can retract the pin to rotate the protractor freely. Another impressive feature of the protractor head is its vernier scale, which lets you accurately and easily measure to a tenth of a degree. The extruded aluminum fence, which telescopes, is quality. The measuring scale that sits atop the fence and telescoping arm is easy to read in both inches and centimeters. There are also set screws for micro-adjustments.
When using any miter gauge you frequently need to move its fence for clearance (to use a dado blade or to cut miters, for example), and resetting it exactly can be a challenge. A unique feature of the JessEm is a patent-pending fence-locating knob that allows you to reset the fence to the same spot after you've had to shift it. This ensures the accuracy of cuts made using JessEm's flip stop and the measuring scale atop the fence. The fence and flip stop can also accommodate a user-made sacrificial fence. 
—Chris Gochnour is a contributing editor. 
Photos: Barry NM Dima 
From Fine Woodworking #292