Remembering Nancy Hiller (1959-2022)
Brave, hard-working, talented, kind.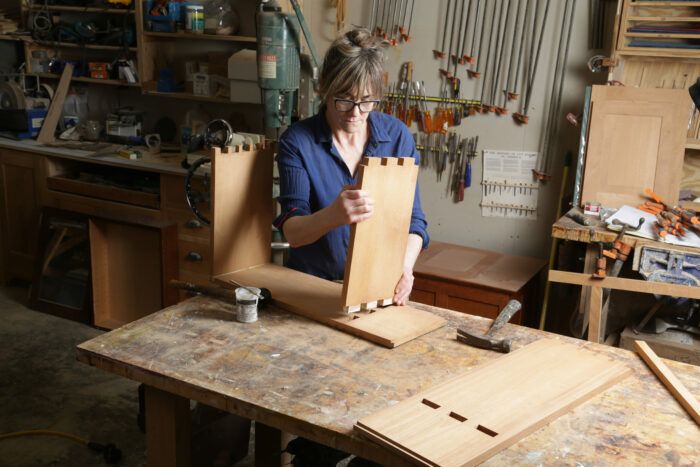 Brave, hard-working, talented, kind.
Of all the adjectives that can be used to describe Nancy R. Hiller, these four most appropriately sum up the woman we have come to know and love. And yes, there are so many more we could have chosen, from erudite to funny to saucy to… she'd be the first to admit this… wordy.
But foremost, Nancy was brave, hard-working, talented, and kind.
Brave … having tackled what was essentially a "man's" career from an early age, training in England and working as a furniture maker in various cabinet shops until starting her own business in 1995. Brave, having faced a diagnosis of pancreatic cancer with optimism, courage, and grace. Brave, having shown that there was almost no subject she would not take on and no truth she was afraid to tell.
Hard-working … just do a Google search and you will find ample evidence of Nancy's work, whether that involves designing a period-appropriate kitchen, making all the components, and installing them; writing one of many books; keeping us all informed through the several blogs she wrote, both for Fine Woodworking and Lost Art Press; teaching woodworking; supporting the work of female woodworkers striving to make their marks in the world of furniture making; conducting an Instagram "takeover" for Fine Woodworking to mark Women's History Month, gardening at her Indiana home, caring for her family, including cat Tony and dog Joey, and more.
Talented … her work speaks for itself, and you can scarcely have spent time on this website or others and not seen the beautiful cabinetry, shelves, and other amazing furniture Nancy has made. Nor can you have escaped the evidence of her writing skills (see above).
Kind … that's an attribute each of us experienced over the course of our relationship with her. Whether she was writing a note of encouragement, noting the contributions of staff members publicly who rarely get public acclaim, speaking out for woodworkers who might otherwise not get noticed, or just having a great conversation with one who needs it, Nancy had a deep capacity for kindness.
---
Nancy R. Hiller trained as a furniture maker in England, where she lived for 16 years from the time she was 12. She earned a City and Guilds of London certificate, then worked for designer Roy Griffiths making kitchens. She also worked for Millside Cabinetmakers and the carpentry shop of the Imperial War Museum at Duxford Airbase before returning to the U.S. Back here, she worked for Wall-Goldfinger and Credence Customer Furniture before opening her own shop, NR Hiller Design Inc. in 1995.
She was a teacher, author, and craftsperson of the highest degree. Among the books she has written are: Shop Tails, Kitchen Think, English Arts & Crafts Furniture, Making Things Work: Tales from a Cabinetmaker's life, The Hoosier Cabinet in Kitchen History, A Home of Her Own, and Historic Preservation in Indiana.
Her blogs include Making Things Work and Pro's Corner on FineWoodworking.com.
She's written numerous articles for Fine Woodworking, Lost Art Press, Popular Woodworking, and a host of other magazines.
There are so many valuable nuggets of wisdom in her writings that one would be hard pressed to find a single one that sums up Nancy's view of her work, but this one comes close. It's from a blog post she wrote about passion, which we later printed in the magazine as "The problem with passion," a column for From the Bench:
"Doing what you love for a living demands that you cultivate a larger understanding of loving what you do—one that will accommodate the headaches, stress, sporadic income, difficult clients, occasional doldrums, and sleepless nights that can come with being self-employed. When you think about it, this is no different from the deeply committed love that grounds a long marriage, which may involve stretches of monotony, moments of doubt, tending to a sick spouse (or parent, or child) and the occasional hour or (let's be honest) more of utter exasperation. "