Video: How to fit a shelf to hand-cut dadoes
Whether sawing freehand or against a guide block, Megan Fitzpatrick always checks that the dadoes are flat and square.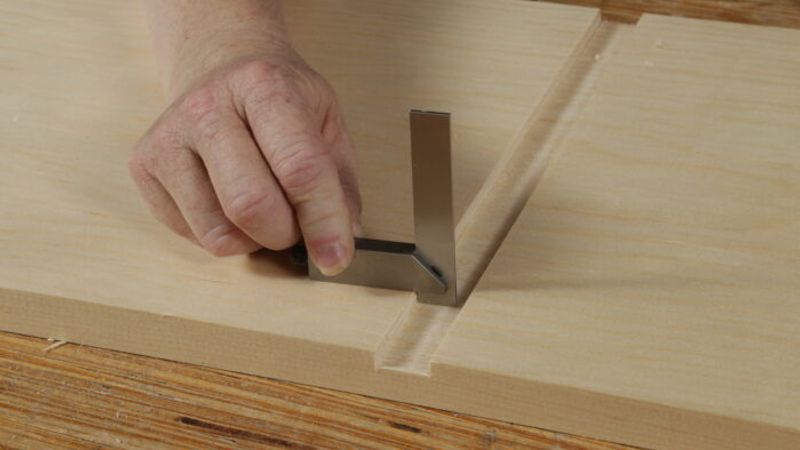 The Dutch tool chest has a fixed shelf that sits in dadoes and is nailed in place. I cut these dadoes by hand, sawing the walls before cleaning out the waste with a chisel, followed by a router plane. Whether I'm sawing freehand or against a guide block, like I show in my Dutch tool chest article, I check that the dadoes are flat and square and I don't cut the shelf until after I have cut the dadoes.
The chest's shelf should be 24-1/2 in. long, but if your dadoes are a little deep or a little shallow, it won't be. You want that shelf to be a dead-on fit; that will help to keep the carcase square, so mark it off the dry-fitted carcase, measuring dado to dado.
I prefer to trim the shelf to just a hair longer than final length, then shoot the end to sneak up on a perfect fit.
Also, verify that the dadoes themselves are good. With the chest sides flat on the bench, I set a small square to the depth of the dado, 1/4 in. in this case. Then I use that square to check for two things. The first is that the dado walls are square to the inside face. If they're angled in, your shelf is likely to go in then stop, pinching where the wall is angled. Use a chisel to fix any problem areas. Second, I make sure the dadoes are a consistent depth. Any high spots will also interfere with the shelf's fit. But don't panic if a dado goes just a little bit below 1/4 in. in the middle; the ends will hold the shelf in place. I clean out any detritus, which the square makes more apparent, also.
If the shelf won't go in at all (and the dado walls are square), adjust the shelf, not the mortise. Take a cross-grain pass or two on the bottom face at the end with a block plane (don't forget to chamfer the far edge first to avoid spelching), then try the fit.
For more on tool chests, click on