How to build a Dutch tool chest
Improve your hand skills with a chest sized for travel and the shop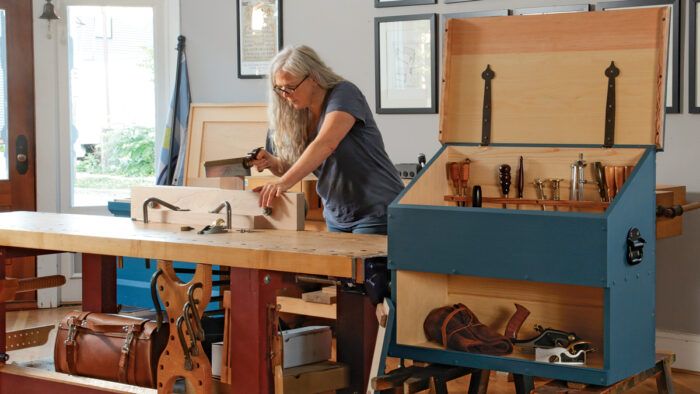 Synopsis: This Dutch chest is portable enough to fit in the car, and it holds enough tools to get most jobs done. The sloped lid is a great surface for working on shop drawings, and the whole project is a great way to practice hand-cut joinery dovetails, dadoes, rabbets, cut-nail joinery, and moldings. The top tier has plenty of room for chisels, saws, planes, and layout tools. The bottom is sized for molding and joinery planes, as well as tool rolls.
---
I'm a die-hard fan of my full-size English tool chest for working in the shop—but it isn't easily loaded into my car. Because I travel to teach, I need something smaller and more portable, and this Dutch tool chest is just right. Built out of pine (or another lightweight wood) and conveniently sized, it's no problem lugging this thing around. And because it holds enough hand tools for most furniture work, I always feel well prepared. Indeed, because this style of the chest does store so much, there are plenty of people who enjoy using one while staying put.
Perhaps the chest's most distinctive characteristic is its sloped lid. Historically, the slope allowed rain to slide off when the chest was in transit instead of collecting on the top. But it's also a great surface for working on shop drawings. And it keeps you from piling stuff on top. 
With dovetails at the bottom only, this chest is simple to make and a great project for those new to hand-cut joinery. (It's also a nice chest for those with years of experience under their tool belts). The hand-tool skills that you hone in this build—dovetails, dadoes, rabbets, cut-nail joinery, moldings—will serve you well for all your projects to come.
Low-stress stock prep
The interior depth of the chest is 11-1⁄4 in.—the same width as a 1×12—so you don't need a jointer and planer to prep the wood. Just pick the straightest, flattest 1×12 you can find. The chest's width is based on holding a No. 8 jointer plane, plus a little room to spare. When determining the arrangement of the boards for the carcase sides and bottom, consider having their heart side face out; that way, if they eventually cup, they will cup inward and be restrained in the middle by the dovetails and shelf dado, and the joints will stay closed. If the bark side faces out, the boards will cup outward, which could open the joints. But also consider the appearance, particularly if using a clear finish; good joinery should hold the boards flat in either orientation. 
From Fine Woodworking #293
To view the entire article, please click the View PDF button below.
View PDF