Drill-press table with dust collection
Tearout-free drilling on a self-cleaning surface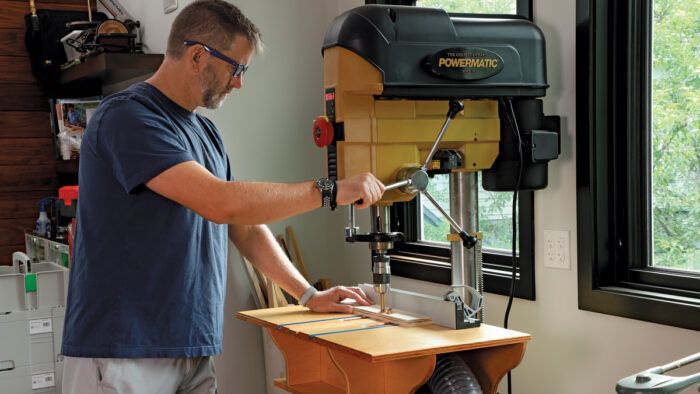 Synopsis: This shopmade drill-press table has a built-in dust box below the work surface. Slots in the surface allow dust to get sucked down into the box and out the dust-collection hose. Workpieces larger than the table benefit from the suction, too, as it holds them in place, and then easily collects the chips afterward.
---
A few years ago, after years of working wood without dust collection, I finally hooked up all my stationary machines to a dust collector—all except my drill press. I searched online but couldn't find products or articles that addressed drill press dust collection. I'd seen some plastic fittings that people use on the end of their 4-in. flex hose to try to catch some chips, but that didn't seem like a great solution.
I decided to make my own drill-press table, one with a built-in dust box below the work surface. I designed it with two slots through the work surface, so chips get sucked down into the dust box and out the dust-collection hose. When I drill narrower workpieces, the chips go right down the slots as I'm drilling. When I drill plywood and other large pieces that cover the slots, the vacuum force acts like a clamp, helping hold the workpiece in place while I drill. (It was a happy accident—I wish I could say I intended it.) In that case the chips stay on the panel, and when I'm done drilling I just slide the workpiece out from under the bit, tilt it up, and the mess disappears down the slots.
As I thought about my drilling process, I remembered that I almost always have a sacrificial backer board beneath the workpiece to ensure a clean, splinter-free exit on the holes I bore. That works well, but I realized that on my new table the backer board would cover the vacuum slots. To address that issue, I decided to build a narrow sacrificial backer strip into the top of my new table. I cut a shallow dovetailed keyway down the center of the top from front to back, and I fitted it with a dovetailed hardwood strip. Now when one section of the backer strip has been drilled too many times, I slide the strip partway in or out—or pull it out and turn it end for end—to present a fresh section.
In addition to cutting the vacuum slots and the dovetailed keyway in the top, I dadoed it for T-tracks to accept my drill-press fence. 
From Fine Woodworking #293
To view the entire article, please click the View PDF button below.
---
View PDF