Versatile shop cabinets
Organize tools, jigs, accessories, hardware, and more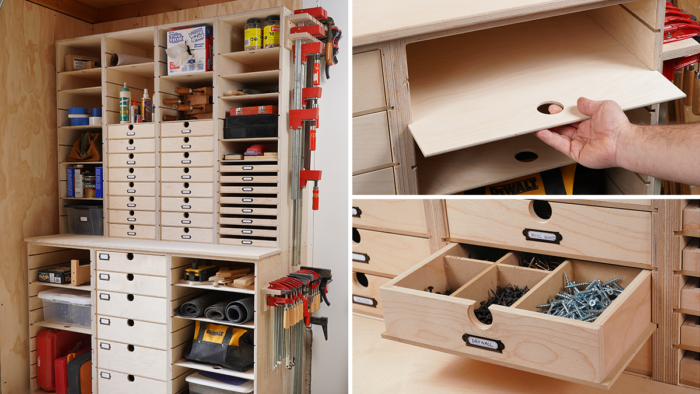 Synopsis: Having spent many hours documenting clever shop storage solutions in visits to woodworkers around the country, Asa Christiana incorporated some of the most ingenious when building his own shop cabinets, most notably from Clark Kellogg. His system includes tongue-and-groove drawers with labels, plywood shelves that can be set to any depth using a series of slots, a stack of shallow drawers for sandpaper and disks, and a place to add a clamp rack.
---
Woodworkers pick up an endless array of essential items along the journey, some used every day, others once a year, all indispensable when their moment arrives. Very soon this plethora of paraphernalia piles up around the shop, stuffed and stacked in every nook and cranny. That makes items hard to find when you need them, and hard to clear out of the way when the shop needs cleaning.
The problem isn't just one of volume but also variety. There are handheld tools small and large, machine helpers, finishing supplies, half-emptied boxes and bags of hardware, odd-shaped jigs and accessories, and so much more—all defying easy, accessible storage.
As a former editor and current freelancer for Fine Woodworking, I've traveled around North America documenting clever storage solutions from all corners. In 2020 I visited Clark Kellogg in Houston, Texas, to shoot photos for his articles on hexagonal boxes (FWW #285) and custom brass hardware (FWW #287), and he showed me a system of slotted cabinets that got my imagination spinning.
While Kellogg's cabinets, (which appeared in Workshop Tips, FWW #287) have shelves only, and were designed mainly to hold Systainer tool cases from Festool, I realized that the same slotted system could also support drawers of all sizes, with overlapping bottoms acting as runners. The design and storage options multiplied from there, and the cabinet that now lives in my workshop was born.
Kellogg was only too happy to see his idea evolve, and I'm excited about the sequel. I've used reclaimed kitchen cabinets to organize past shops, but they've always left me frustrated. This system lets me customize drawers for items large and small, and stows everything else on open shelves that can be set to any spacing, making everything easy to grab in seconds. Better yet, I can change the array at any time.
My favorite part of the cabinets is the stack of shallow drawers in the middle, with labels on the front and hot-glued dividers inside, creating the hardware cabinet I've always wanted.
I had a blast designing my version of this variable system, and I'm excited to see how readers re-imagine it.
Easy construction
The great thing about building shop cabinets is that many of the regular furniture-making rules, like hiding screws and plywood edges, don't apply. That means you can make these cabinets with almost any joinery method you prefer, place them together on a level toe kick, and simply screw them to their neighbors and the wall for a super-solid assembly, sized to fit your unique space and stuff.
While Kellogg used screws and dadoes to build his boxes, I went with biscuits and screws. I like the way biscuits hold the parts in place while you drive the screws, and how the screws let you assemble the boxes one joint at a time.
From Fine Woodworking #293
To view the entire article, please click the View PDF button below.
View PDF