Workshop tip: Dovetail sled makes short work of pins
The pivoting fence of this jig delivers clean, precise cuts with little layout.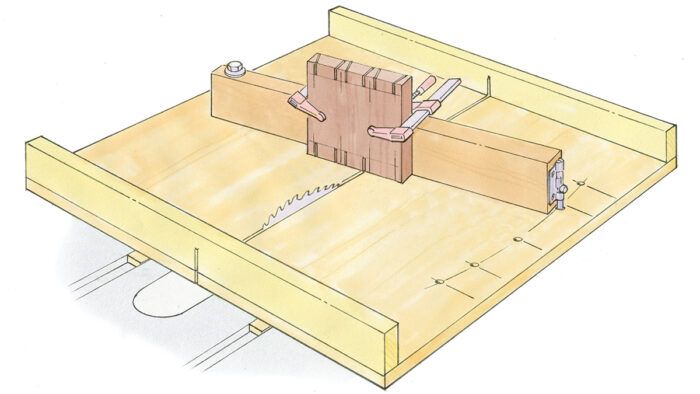 This is a basic crosscut sled with a twist: It has a pivoting fence that delivers clean, precise cuts for dovetail pins in minutes, with no complicated layout. All you need to guide your cuts are centerlines; the sled does the rest.
The fence pivots on a hex head bolt at one end and at the other has a sliding barrel-bolt latch—available at any hardware store—which drops into a series of holes for cuts at different angles. Start with the fence at 90°, and position the workpiece so one of your centerlines aligns with the edge of the blade farthest from the pivot point. Clamp the workpiece there. Then simply pivot the fence forward and back to cut each side of that pin. There are two sets of holes in each direction—one for 1:8 dovetails and the other for 1:6.
The sled tends to make narrow pins in the traditional style, and the narrow end is always the same width, regardless of the thickness of the board, given the same blade thickness and the same cutting angle. With a 3/32-in.-thick "thinkerf" blade, the narrow ends will be 3/32 in. wide at the 1:8 angle and 5/32 in. at the 1:6 angle.
For fatter pins, add a spacer board behind the workpiece to push it farther from the fence axis—or use an even thinner blade. For narrower pins, use a standard-kerf (1/8-in.) blade.
To build the jig, start with any tablesaw crosscut sled. Make a 1-1/2-in.-thick fence, center the sliding-bolt latch on one end, and drill a snug hole for a hex bolt exactly 24 in. from the center of the latch bolt. Insert a T-nut in the base below the hex bolt hole to secure the pivoting end.
You'll need to drill holes for a series of fence stops. First mark and drill a hole in the sled so that the barrel latch will hold the fence square to the sawblade. To set up the angle stops, measure 3 in. and 4 in. from the 90° axis, front and back. Rotate the fence until the center of the latch bolt exactly aligns with each of the lines and drill holes for it there. Because the fence is essentially 24 in. long, the 3-in. and 4-in. offsets produce the above-mentioned dovetail angles.
—PAUL WILLIARD, Providence, R.I.
Illustrations by Dan Thornton
From Fine Woodworking issue #292