Own your schedule
Written agreements and good communication can spare you and your customers a lot of heartburn and sleepless nights.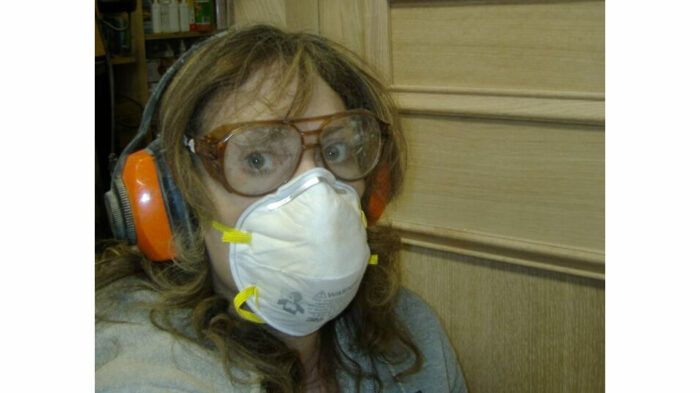 Among the most widespread challenges at present for those in the trades is being overbooked. "Overbooked" sounds benign compared to the insomnia-inducing stress of being tear-your-hair-out busy and unable to find anyone with the right skill set to help you find light at the end of the tunnel.
I've been there. The photo above is from Thanksgiving, 2011, when I spent the day working on a large commission with a too-tight deadline that was all but non-negotiable. Here's some of what I have learned about how to get through the long days and anxiety-plagued nights, and avoid finding yourself in a similar situation ever again.
1) Use a contract, and design it to allow for potential changes to your schedule
A written agreement is key. I know fellow craftspeople who prefer to avoid formal agreements, for a variety of reasons, but I value them as a clear form of communication and a record of what all parties have agreed to.
Every proposal I write includes a section on schedule, with a sentence along the following lines:
"As my schedule stands, I anticipate being able to begin work on your job (fill in with your own information, such as 'the third week of October')." I always add, "however, due to the possibility of unforeseeable circumstances, I cannot guarantee starting or completion dates." If customers want me to do their job, they have to sign and date the proposal, which concludes with "I have read, do understand, and hereby agree to the terms, estimated charges, and estimated schedule above." This way both parties, the customers and I, acknowledge the specifics we're agreeing to in the proposal, and my customers attest in writing that they have read and understood the terms. I encourage them in a cover email to contact me before signing, if they have questions.
On more than one occasion I have referred back to a proposal to refresh my own memory regarding details that had grown fuzzy between the time I wrote the proposal and the time I was ready to start that job – usually after months of working on others, each with its own specific details, all of which underscore the importance of a written reminder.
2) Delays happen
Delays can arise due to all sorts of events, from you (or someone in your family) being seriously ill to weather-related disasters or materials shortages such as those related to the Covid-19 pandemic.
When delays crop up – or better, as soon as you see them looming on the horizon – your best course of action is to communicate clearly and forthrightly with your customers. The sooner you share the expectation of delay and provide the reasons for it, the more likely it is that your customer will graciously accept the inconvenience.
Give your customers a considered estimate of how much longer their job is likely to take and when you anticipate having it done. Keep in touch with updates, which will remind them that you care about delivering their furniture or cabinetry as soon as you can. Inadequate communication regarding delays leads to loss of trust, and on the whole, it's completely avoidable.
While it's normal to feel stress and anxiety when faced with too much pressure (whether or not it's partially self-induced), there's only so much you can do. Working yourself ragged may get the job done sooner, but your health may suffer as a result. Lying in bed unable to sleep because you can't stop worrying is even less helpful; resolve to straighten things out with your customer the following morning, take a deep breath, and use a proven method such as guided meditation or reiki self-practice to help you relax.
3) Be specific in your communication
One craftsman I know relied on an oral agreement for a particular job instead of putting the agreement in writing. After discussing what the customers wanted, he told them he could turn their job around in a month. Unfortunately he did not follow I should be able to turn the job around in a month with based on how my schedule currently stands. This qualification is important, because circumstances change; in the best-case scenario, you may find yourself in the middle of a months-long job when that prospective customer is finally ready to commit to their job, which is likely to make that one-month turnaround impossible.
It's also a good idea to specify a deadline by which prospective customers must commit to the terms of the proposal, such as a note on the page with signatures and a date stating "This proposal (or contract) will be valid for 30" (or 60, or 120, as you see fit) "days from the date of its writing." This qualification has helped avoid many a dispute with customers who wait months or years to make up their minds.
After two years, the aforementioned craftsman's customers finally decided to give their project the green light. They were not happy to hear that he would not be able to turn the job around within a month, because his schedule was now jam-packed with several months' worth of work for other people.
"But that's ridiculous," you're thinking. "Anyone knows an agreement's only valid for a reasonable length of time, and then you have to renegotiate." But who defines "reasonable"? Why does anyone imagine that others can read their mind, or think the same way they do? And let's not forget that, while most people (at least, most people I've dealt with) are willing to give someone the benefit of the doubt and act graciously in the interest of getting along with others, some customers have a pathological need to grind everyone else into the ground, or slap them around a bit in a game of Cat and Mouse. While it's hard for me personally to imagine someone suing a craftsman for failure to abide by an agreement of which there is no physical or electronic record, that doesn't mean it hasn't happened. And if you find yourself cowed by such a person into squeezing their job into your already-busy schedule, you'd better get a razor ready; you may need it to clean up those last straggling hairs after you've pulled the other 99% out.
Nancy Hiller is a professional cabinetmaker who has operated NR Hiller Design, Inc. since 1995. Her most recent books are English Arts & Crafts Furniture and Making Things Work, both available at Nancy's website.
---