How to make a rule joint
This joint links drop leaves to the tabletop and looks good with the leaves up or down.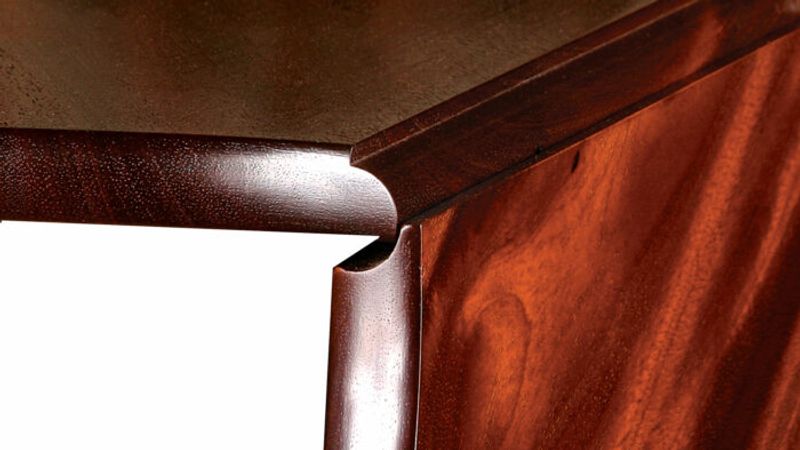 To cut the rule joint on this table's top, which is 5⁄8 in. thick, I use a 1⁄2-in. cove bit combined with a 1⁄2-in. roundover. Before diving into the real thing, mill up a couple of test pieces 5⁄8 in. thick by 6 in. wide by 15 in. long. Believe me, you will recover this investment of time when making the actual joints. Using a routertable, run the roundover on one of the boards leaving a 1⁄8-in. fillet. On the other piece, still using a router table, run the cove bit. Sneak up on the fit until there is a gap the thickness of a piece of veneer between the profiles when they are butted together.
Installing hinges
Hardware is never the place to skimp on quality. I prefer Horton Brasses for my hinges (#510). The placement of the hinges is key. With the leaves dropped, the hinges should not be visible and the gap between the top and the leaves should be minimal. Most of the illustrations that show the placement of the hinge barrel do so with a 3⁄4-in. top in mind. That is way too heavy for a table as delicate as this one. For this top, the back of the barrel is tangent with the fillet.
Mount the hinges to the tabletop first. Score the outline of the hinge using an X-Acto knife and a combination square set to the depth of the hinge. Take the tip of your knife and roll it over the edge to prevent blowout from the router. I use a palm router to excavate, and then I clean up the edges with a chisel. Fit the hinge into the mortise and mark where you need to dig a little deeper to accommodate the barrel. Use a chisel for this as well. Be careful not to push too hard and blow through.
With the hinges mounted to the tabletop, butt the drop leaf to it with a piece of veneer between them serving as a spacer. Transfer the hinge layout to the leaf and rout/chisel again. When you think you have a good fit, mount one screw in each side and check the swing. You can adjust the fit if needed by running sandpaper through the joint. Once you are satisfied with the fit, repeat the process on the second leaf.