Workshop Tip: Repair a bowl without taking it off the lathe
Use the tool rest as a clamping caul to reattach broken pieces.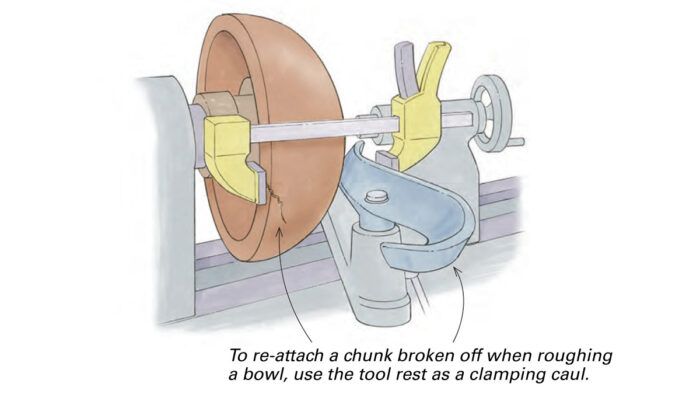 I turn bowls from figured, irregular material, and sometimes I break a piece out of the rim. If the piece is intact I have a method to glue it back on without removing the bowl from the lathe. I adjust the tool rest so it acts as a clamping caul. I use cyanoacrylate glue for a quick, strong repair. If the bowl is mounted bottom-out, as shown, I position the tool rest against the bottom of the bowl, and clamp between the repair and the rest. If the bowl is mounted rim-out, I try to insert the tool rest between the headstock and blank, or I use the headstock itself as the clamping point.
—DONALD H. STEVENS, Reading, Pa.
Illustrations by Dan Thornton
From Fine Woodworking issue #289