Tool review: NGX Clamp Edge System from Bora
Bora's new system turns your circular saw into a track saw.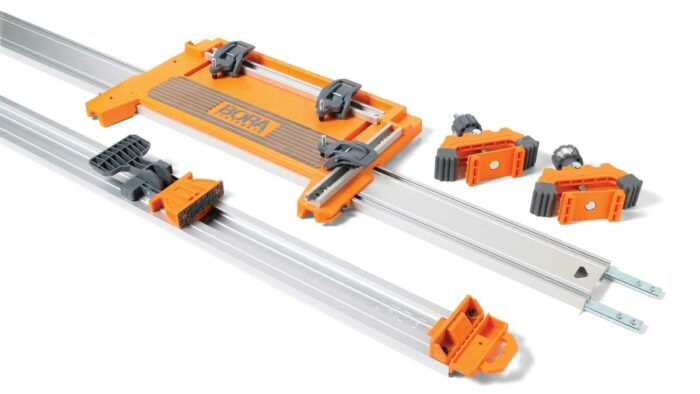 The NGX Clamp Edge System from Bora promises to deliver all the functionality of a proper track saw using the garden-variety circular saw you already own. I tried out the five-piece Deluxe set, which includes the sliding saw plate, the 50-in. Clamp Edge track (with built-in edge clamp), a 50-in. extension track, two specialty clamps for angled cuts, and zero-clearance plastic strips for both tracks. Every element worked as intended, on plywood of all sizes, delivering the key functions of a full-featured track saw at a fraction of the price.
Because your saw is elevated on the plate and track, you lose 1 in. of cutting capacity, leaving a 7-1⁄4-in. saw with about 1-3⁄8 in. of cutting depth. That's plenty for sheet goods but a potential issue for thick slabs. The minimal instruction sheets packed with the kit are the only other downside. But after I did a bit of digging for info on YouTube, setup was a cinch. The clamps on the saw plate were easy to adjust for my saw, as they will be for most on the market (check the Q&A section of the online product page to be sure your saw is compatible). Once positioned, the clamps lock the saw in the same place every time, so it always lines up with the zero-clearance strip on the track. To locate a cut you simply line up the trimmed edge of the strip with any two layout marks.
The plate slides on the track with no slop at all, creating cuts as smooth as those I get on my $3,000 tablesaw, including crosscuts with zero chipout. The saw's stability once clamped in place also made plunge cuts safe, easy, and accurate.
The "50-in." track designation represents cutting capacity, not overall length. The track is actually 56 in. long, so there is plenty of extra track at the front edge of a 48-in. workpiece, letting you stabilize the saw plate before cutting.
The Deluxe kit comes with two extras. One's a 50-in. track extension that allows you to rip 8-ft.-long strips off a full sheet of plywood. The other is a pair of clamps that lock the track at any angle—the normal edge clamps only work at 90°—opening up another world of plywood construction.
| | |
| --- | --- |
| Built-in edge clamp. The built-in clamp slides easily under the track, and locks quickly and solidly onto any workpiece. | Alignment is easy. Once locked in position to suit your saw, the three toggle clamps let you attach the plate in seconds, returning the saw to the same position each time. |
—Asa Christiana is a woodworker, teacher, and freelance writer in Portland, Ore.
Photos: Asa Christiana
From Fine Woodworking #289