Workshop Tip: Disk-sander jig makes smooth, precise circles
Micro-adjustable jig lets you slide a disk forward, rotate, and sand.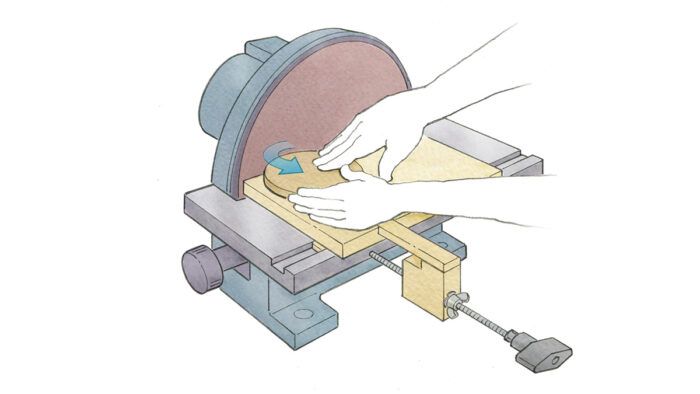 To make any number of precisely sized disks, I built a micro-adjustable jig for my disk sander. A small runner fits into the sander's miter slot to keep the base of the jig stable, while allowing it to be moved side to side to access fresh areas of the sanding disk. Up top there is another slot, perpendicular to the disk, which holds a thin sliding bar with a 4d (4 penny) nail sticking out near the end. Hanging off the sliding bar is a threaded rod that hits the front of the sander table to limit the depth of cut. After roughing a workpiece to size on the bandsaw, drilling a 3/32-in. hole at its center, and tapping it down onto the nail, you just slide the workpiece forward as you rotate and sand it. When the threaded rod touches the table, the disk is at its final diameter. Adjustments are simple, and you get smooth, precise disks every time.
—CHIP TREBOUR, Richmond, Va.
Illustrations by Dan Thornton
From Fine Woodworking issue #288