Workshop Tip: Pair of squares simplifies mitered sticking
Hand tool technique gives accurate results with less setup than using a tablesaw.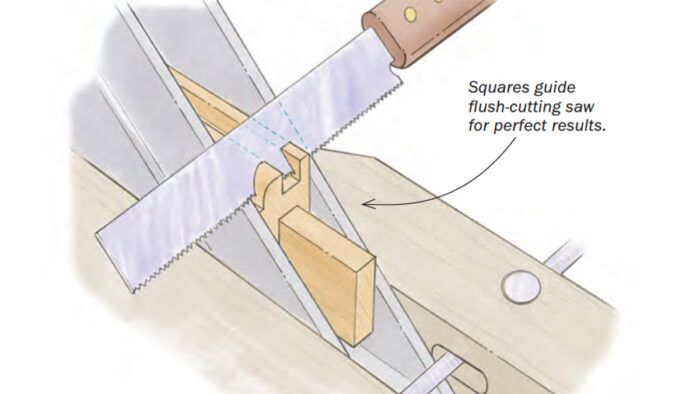 To build classic door frames with full mortises and tenons and a molded profile on the inside edge, called "sticking," you have to cut small, precise miters at the inside corners. It's a scary step, because you have already invested a lot of time at that point. I've cut these miters successfully on the tablesaw, but my new handsaw technique gives more accurate results with much less setup. The trick is using two carpenter's Speed Squares to guide the saw. I align and clamp one on each side of the rail or stile, aligning their tips with each other, and their angled edges with the miter I need to cut. Then I simply run a flush-cutting saw along the squares. This type of saw has no set on one side, so it won't dig in to the squares. The miters come out perfect and I have total control over the process. You can also run a cranked-neck paring chisel along the squares.
—JIM MURTHA, Lancaster, Ohio
Illustrations by Dan Thornton
From Fine Woodworking issue #288