Workshop tip: Adapt a pencil sharpener to make small pins
You can turn a small dowel by making a few changes to your carpenter's pencil sharpener.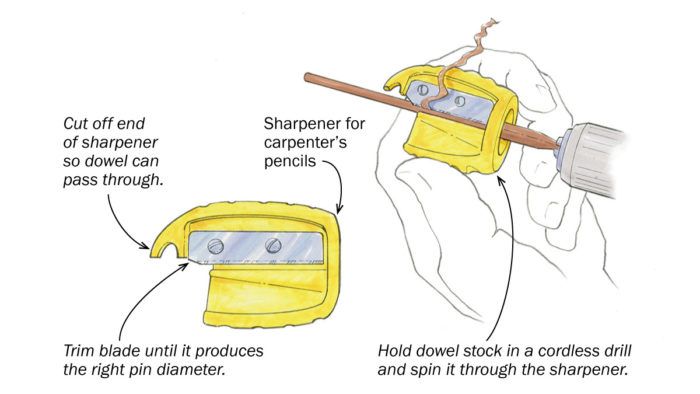 Thin pins in a contrasting wood are a nice way to lock joinery and add a decorative touch to small projects. But turning a 1/8-in.-dia. pin is difficult. It's possible, though, to adapt a carpenter-pencil sharpener to turn a thin dowel. I used a rotary tool to cut off the end of my sharpener, so the dowel could push through, and trimmed the cutting blade (without removing it from the sharpener) to create the diameter I wanted. To use the improvised dowel jig, I rip square stock about 12 in. long on the tablesaw, whittle the end so I can hold it in my cordless drill, and run it slowly through the sharpener, which I simply hold in my hand. If need be, you can spin the pins against sandpaper to smooth them and dial in the diameter.
—STEPHEN ZERWAS, Summerfield, N.C.
Illustrations by Dan Thornton
From Fine Woodworking issue #287