Benchmarks: Steve Latta — Great artisans, great inspiration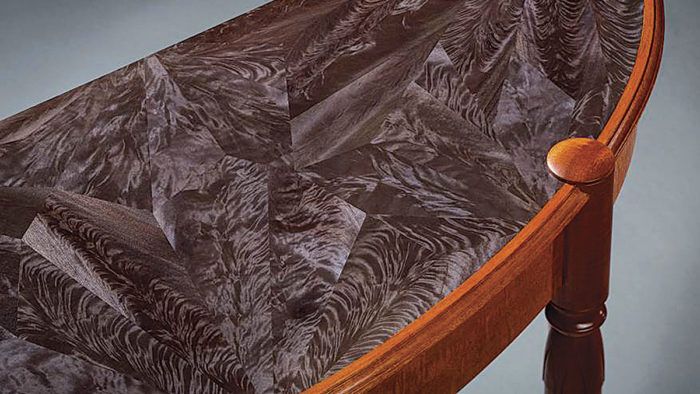 When I started working in a furniture shop in Athens, Ohio, issues of Fine Woodworking were scattered about the place.  We'd all flip through the pages and ooh and aah at the work executed by myriad great artisans.  Some authors were just a staple and I looked forward to anything and everything they would write.  Given the opportunity, I would have pulled off a Vulcan mind meld with Tage Frid, Ian Kirby, or Phil Lowe. In those early issues, I found a wealth of practical knowledge that I could apply in my day-to-day efforts as well as inspiration for the long haul, which at this point has been about 35 years.
A table by Richard Newman was the first real piece to stop me dead in my tracks.  Featured on the back cover, it had trumpet-shaped legs with merging flutes that spiraled the entire length with a small bead of ebony inlaid on the apexes.  I marveled at a lot of woodworking in those early days, especially at the amount of time required to pull the work off, but I usually at least knew how they did it.  When it came to that table, however, I had not a clue as to what magic went into those legs.  I was in New York City that year doing an install and had a chance to see the table at Gallery Henoch.  Mesmerized, I couldn't help but shake my head in awe at the precision of his work.  After doing some digging, I found an article in an earlier issue of FWW on Richard inlaying mother-of-pearl.  With certainty, it was foundational for the work I do today.
The marquetry work of Silas Kopf moved me down the road.  In Silas, I saw not only an exceptional craftsperson but an artist as well. I have always viewed myself more as a studio musician than a composer.  Give me the drawings, leave me alone, and I'll bring your concept to life.  Like Richard Newman, Silas both designed and built his pieces, paying close attention to even the most minute details, both on the interior and exterior.  His article "Marquetry on Furniture" opened to me the notion of double-bevel cutting, a skill I practice to this day.
One of the things I love most about Fine Woodworking is watching its authors evolve over the years.  David Lamb, Garrett Hack, and Michael Cullen have always been favorites of mine both for their sense of design and the execution of their work.  David's frost-pattern marquetry top complements its base perfectly.  Michael's long-running exploration of texture is second to none, and Garrett's continually evolving design sense always inspires me.  In the last few years, the work of Tim Coleman and Kristina Madsen has caught my eye and I look forward to reading their articles and seeing their work.
Steve Latta
Three different shows ran concurrently in New York City's artsy Soho district

Rick Mastelli

Watching one banjo maker cut and fit a delicate design

John Lively

Double-bevel sawing leaves no gaps

Silas Kopf

David Lamb's frost-patterned marquetry begins with birch crotch sections 3 or 4 ft. long.

Jonathan Binzen