Drawing on a tablet
It's not the same as pencil and paper—yet. But as Vic Tesolin says, sketching on a tablet is pretty fun and it saves the trees for woodworking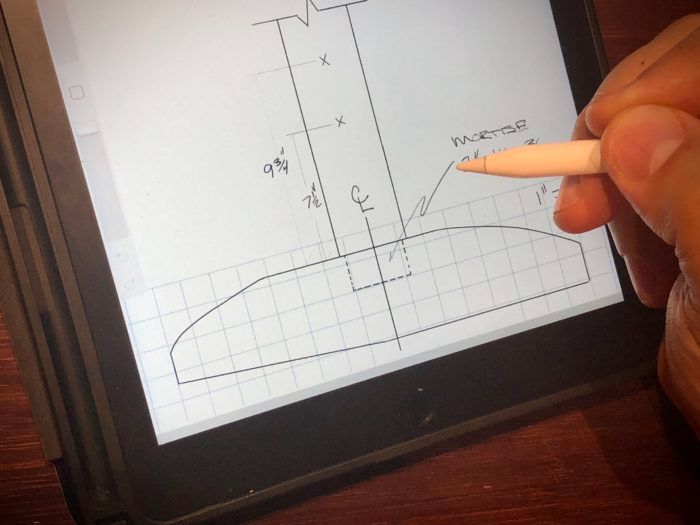 While my new shop is in an unworkable state of "everything crammed in the center so I can paint the walls," I thought I'd take a moment to talk about drawing. Whether it's laying out a new shop or designing a piece of furniture, we all need to take the time to research, daydream, and get our creative juices flowing. For the last year or so I have made the effort to try doodling, sketching, and drawing on my tablet instead of paper. My reasons for this crazy experiment are many, but mostly I'd like to keep the trees for furniture making.
Seriously though, digital drawings have some advantages. They don't take up physical space and aren't subject to ruin by a spilled cup of coffee (although spilling a cup of coffee on your tablet can sure ruin more than just your drawings). Digital files are easy to save, and you can easily back up copies to various locations. Personally, I store my files in three places: the device itself, a disk that is on my home network, and the cloud. Another advantage of digital storage is that I can group like drawings for quick reference.
Drawing applications have come a long way since their inception and the hardware is advancing as well. I'm using an iPad with an Apple Pencil and the drawing experience is quite impressive. I have also found that adding a paperlike film to the touch screen improves the experience even more. Part of what I didn't like about sketching on a tablet was that there was no friction. I like friction when I'm drawing and the film I use even offers that subtle "scritch-scratch" sound as you work.
I tried many apps for drawing, and have settled on one called Procreate. This is an incredibly powerful app that allows me to do everything from freehand sketches to measured drawings and everything in between. I work in multiple layers so that I can separate layout, drawing, and dimension lines. I can even start from a photo layer if I find an existing piece that provides inspiration. This app allows for the layers to be turned on and off so that I can show just the drawing to a client (my spouse) or keep all the layers in as I work.
Procreate, like many drawing apps, lets me cut and paste with ease. I can erase lines, increase their weight, or duplicate them with a simple swipe gesture. I can change colors of ink and pick from a ton of preloaded tools that range from pencils and pens to watercolor and charcoal. I can also add color to get a sense of how something would look in cherry, then switch it up to see if I prefer it in walnut.
My workflow usually starts by opening the file where I keep all my doodles. These are simple drawings that may or may not become an actual physical object. I go through the doodles much like a physical sketchbook, looking at what I've drawn before or making something new. Then I can select a doodle that I want to develop and bring it into another file where I can experiment with proportions, size, etc. I can even turn on a feature that allows me to sketch in perspective. Drawing in perspective has always been a challenge for me, so this feature is quite helpful. Once I have a final design, I can open a note-taking app and jot down a shopping list. I like this. With cloud storage, I can open the app on my phone when I'm at the store and I have a list of everything I need.
I enjoy sketching digitally but I know it's not for everyone. It still isn't good old paper and pencil, but it is getting close. The app is cheaper than whatever paper sketchbook is trending right now and if you already have a tablet, what have you got to lose? Tablets aren't just for Netflix and solitaire anymore.
---