Webinar: Models and Mockups Make the Design with Michael Fortune
Replay Join FWW contributing editor Michael Fortune for our webinar on designing with mockups.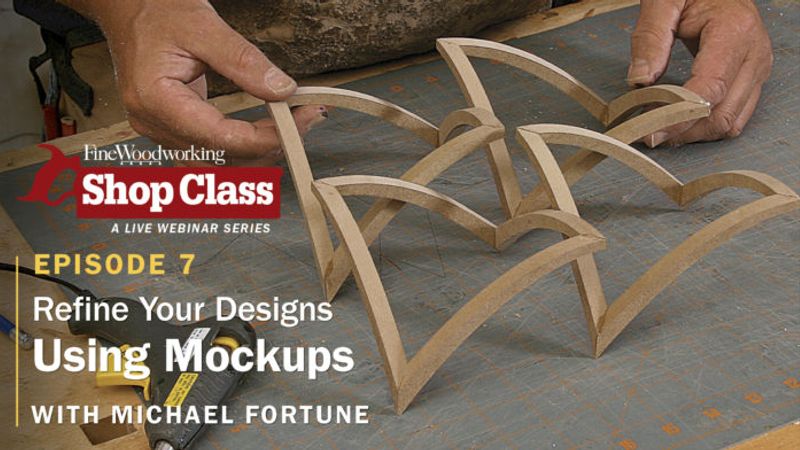 Internationally renowned for his furniture designs and for his technical prowess, Fine Woodworking Contributing Editor Michael Fortune explains in this webinar the vital role that scale models and full-size mockups play in the design process. "Making models and mockups of your idea might seem like an extra step when you really want to just jump into your new project," Fortune says. "But these steps are very important—they can quickly illustrate strengths and flaws in aesthetics, structure, and joinery before you've invested time and precious timber in your project."
"I've been making furniture for close to 50 years, and I still make models and full size mockups as part of my design process. These steps have salvaged quite a few designs that were destined for a dark corner in the back bedroom."
In this webinar Fortune will walk you through the process he used to design a number of different pieces of furniture. Making models and mockups should be fast, he says, and he'll describe a host of tricks for making the process quick and the results convincing. "Foamcore, cardboard, MDF, and construction-grade softwood scraps are your palette," he says, "and hot glue and drywall screws are your brush."
Michael Fortune, winner of the Furniture Society's Award of Distinction for lifetime achievement and the Saidye Bronfman Award, Canada's highest honor for craft, teaches workshops around the globe. He lives in the 200-year-old house he renovated in rural Ontario and works in a shop he built on the property.
---
Homework from Michael:
Download Michael's anthropometric chair here.
Michael has recently made his own perspective charts and has them available for $32 shipped. Email him at michael.fortune(at)sympatico.ca
| | |
| --- | --- |
| | |
| | Four simple jigs create beautiful joints quickly |
| | |
| | |
| | |
| | |
| | |
| | |