Pipe clamp tips and tricks
Considering its versatility, Mike Farrington thinks the pipe clamps are an underrated, yet cost-effective, tool.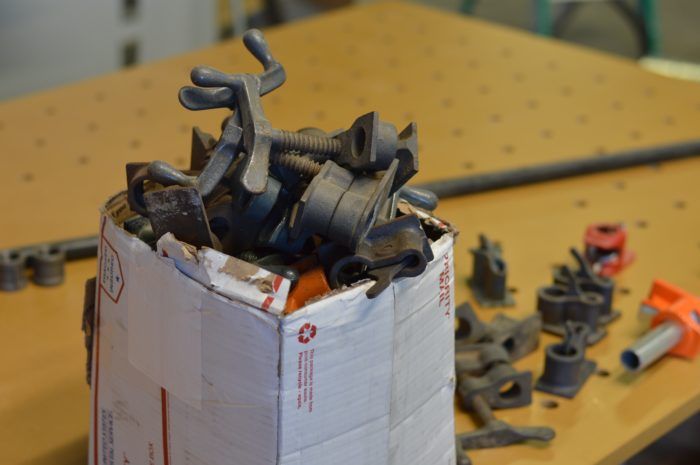 Woodworking is not an inexpensive endeavor. As such, anything to reduce costs while still maintaining quality is a welcome addition to any workshop. The mighty pipe clamp is often underrated and dismissed, yet it's a cost-effective tool, especially when considering its versatility. The main reason many woodworkers dismiss pipe clamps is their tendency to bow when put under tension. I think that if your joinery needs that much force to be brought together, then maybe there is another problem. But that's a topic for another blog post.
For light to medium duty, pipe clamps are supertastic.  
Recently, I needed to clamp two pieces of 5×5 Baltic birch together, meaning I needed a clamp that had a 10-ft. capacity. No problem; a piece of 10-ft. pipe, plus a connector and a second short piece of pipe to make up for the space the clamp heads take, and I'm in business. A few months prior I had to glue some solid-wood edging onto a rectangular, veneered tabletop. The short dimension was 42 in., the long was 99 in.–again no problem for the pipe clamp.
So we've established that pipe clamps are a great solution when clamping very large things, but they can do so much more. Below are a few tips, tricks, and reasons why you should have a few pipe clamps in your arsenal. 
Use connectors to make super-long clamps.Buy 10-ft. lengths of pipe and have them cut and threaded at the store. In my area, a 10-ft. piece of galvanized pipe is about $20. My local hardware store will cut and thread the ends for free. This makes short clamps very inexpensive.
Build a pipe clamp glue up station
A 1 1/8-in. drill bit is a friend to your pipe clamps. Drill a series of holes in a piece of scrap and cut it in half. This makes for a great glue-up station.
Homasote makes great clamping pads
Homasote is a great clamping pad, drill a 1 1/8-in. hole and attach it with some hot melt glue and you have a great non-marring clamp. Homasote is a building product, typically sold in the drywall section, used to reduce noise in a house. Its squishy, fibrous nature makes for a clamping pad of the right density.
Black pipe or galvanized—they both work
I like galvanized pipe vs black pipe. It costs a couple more bucks but it won't leave a stain where the wood, pipe, and glue come together.
Paste wax protects you pipe clamps
Wax your pipes to keep glue from sticking and help the movable end of the clamp work smoothly.
New clamps pipe clamps vs. vintage pipe clamps
I like the old-style ends that have a lever. They work great and I find them easy to adjust. I don't think they are made any more, but I haven't had trouble finding them on eBay and local classifieds. I have bought a few of this newer style, and they work great but are a little harder to adjust. When shopping used, I keep the price between $5 and $10 per set. I think that is a great deal for the older versions. Combine that with $5 worth of pipe and you have yourself a pretty darn nice clamp.
I consider pipe clamps as just one of a few different types of clamps needed in a wood shop. Buy a few and try them out. If you're already a fan of the mighty pipe clamp, hopefully I was able to share a tip or two you hadn't heard before. Thank you for reading.
---