Q&A: Sanding to 500 grit
One reader asks Chris Becksvoort if sanding too fine will interfere with finishing.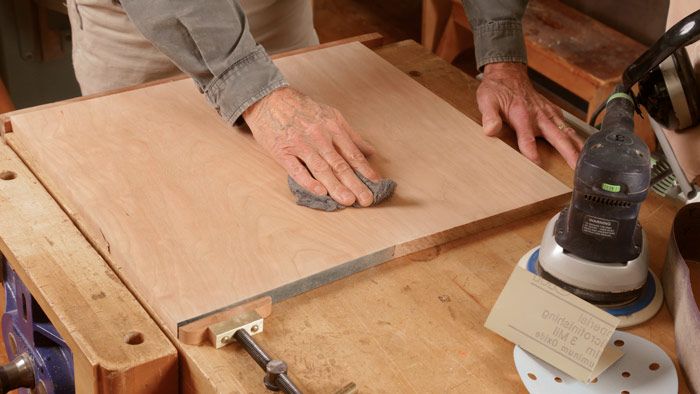 I read with interest Christian Becksvoort's article on belt sanders (FWW #277). He provides an excellent rationale for the belt sander as a useful shop tool, but I was surprised by his method. He advocates sanding through 500 grit and then polishing the wood further with 0000 steel wool. In fact, the photos illustrate this being done on apparently unfinished wood, but many
authors (including in the pages of Fine Woodworking) have argued against ultrafine sanding because it can interfere with the subsequent finishing process. How do I reconcile these two pieces of conflicting advice?
—Michael S. Grace, professor emeritus, Florida Institute of Technology
Chris Becksvoort replies: Thank you for your enlightening question. I'll give you my interpretation based on more than five decades of working with cherry. As with anything else, it's a trade-off.
The advantages of sanding to 100 or 120 grit are that A) the rougher surface makes it easier for surface finishes to adhere, B) it makes it easier for stains to penetrate, and C) it saves time and money.
On the other hand, sanding to 400 or 500 grit makes for a better shine and more clarity of grain, especially with oil finishes. For years I've had inexperienced woodworkers ask me how to get rid of "blotch" in cherry. I was a bit baffled by the term until a woodworker showed me a blotched cherry drawer. It was cherry sanded only to 120 grit, obscuring and "fuzzying" the figure in wood. As I've often said, I pay extra for figured wood, so I take the time to bring out the chatoyance by proper sanding way beyond 100.
It's very much like planing a board with a toothed blade, leaving a fuzzy surface, vs. planing a board with a welltuned plane, which leaves you that smooth, reflective surface.
From Fine Woodworking #283
-Looking for a deeper dive, including oak and maple? Check out Ari Tuckman's article in issue #189, When To Stop Sanding.
---