A very good cabinetmaker
Wiltshire worked in the cabinet shop owned by Anthony Hay, and like the building he worked in, the "very good cabinetmaker" was Hay's property.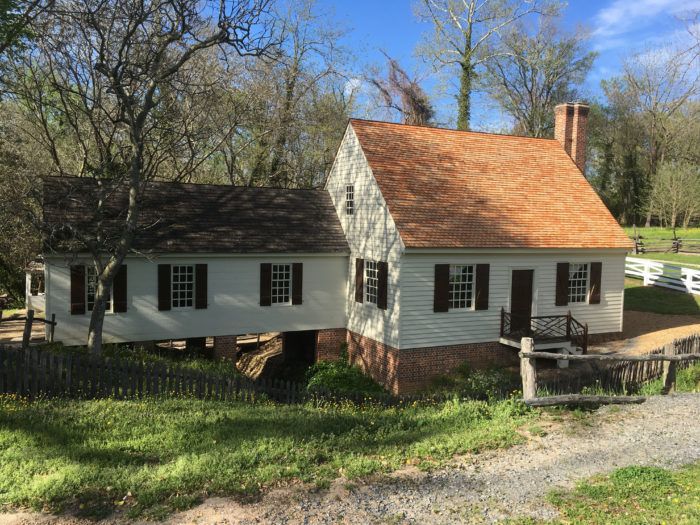 In 1771, a Williamsburg man named Wiltshire was described as a "very good cabinetmaker." No surviving furniture can be directly attributed to his hands. That's no surprise, since most craftspeople of the period did not sign their work. When names do appear on pieces, they typically belong to shop masters/owners alone, not to each individual employed on a given project. Wiltshire worked in the cabinet shop owned by Anthony Hay (the reconstruction of which, pictured above, is where I work at Colonial Williamsburg today). Like the shop building itself, the "very good cabinetmaker" named Wiltshire was the property of Anthony Hay. Enslaved but skilled, Wiltshire was one of many enslaved African Americans working in trade shops throughout colonial America. Records of their lives and work are scant, as are mentions of them in modern writings on craft and antiques. Nonetheless, much of their work must still be hiding in plain sight in public and private collections. We may never be able to pinpoint what traces of Wiltshire's own hand remain on extant pieces attributed to Hay's shop, but we can join the growing number of people interested in casting stories about such pieces in a more inclusive light.
In referring to Wiltshire as a very good cabinetmaker, no one was offering a compliment for a job well done. Instead, terms like "good" or "very good" often preceded a trade name in reference to enslaved individuals to denote that they were trained (presumably through something akin to apprenticeship). For Wiltshire, the reference comes in an advertisement for the sale of Anthony Hay's estate. "Very Good," is purely for marketing purposes and as a justification for the higher price being asked for him (Hay owned a large Williamsburg Tavern when he died in 1770 and owned 19 slaves—most of whom would have been employed in tavern work).
Equally crass, but no less informative, is a 1755 advertisement from Williamsburg cabinetmaker Peter Scott. In an effort to notify the populace of his intention to leave town (he never actually left), Scott took out a newspaper ad announcing the sale of property, tools, wood, furniture and "Two Negroes, bred to the Business of a Cabinetmaker." "Bred"—used more in a literal than metaphorical sense here—strongly implies that these were trained people. The desk and bookcase pictured above is a reproduction we made several years ago based on an original attributed to Scott's shop. Clearly the work of several people rather than one maker, the original does not offer up enough information to separate out who did what or if any enslaved labor was involved. Regardless, the reproduction gave us the opportunity to tell a more complete story of Scott's shop.
Little is known about how enslaved individuals entered into trade shops in the first place. For white Americans, an apprenticeship indenture (contract) was drawn up or agreed to verbally during the early teenage years. Such contracts were unnecessary in the case of enslaved people, but just how they came into shops and acquired skills rarely appears in records. One colonial Virginia record provides a rare glimpse at how a particular enslaved man came into cabinetmaking. In 1743, 16-year-old orphan Spence Monroe signed an apprenticeship indenture with cabinetmaker Robert Walker of King George County, Va. Monroe (the father of future president James Monroe) was born into a family of some means and brought his personal slave, Muddy, into the apprenticeship with him. Muddy, as the document makes clear, was to be taught the trade alongside Spence, though his treatment was far from equal.
The details of Muddy's life beyond the apprenticeship are unknown. Monroe himself was granted his freedom from the indenture and went on to run his own shop. For a time however, they both learned the trade and worked alongside one another in one of Virginia's premier cabinet shops. Robert Walker was known for making high-end, fashionable pieces for some of Virginia's wealthiest plantation-owning families. The tea table pictured below (we need to finish that) is reproduced from a Walker original.
Furniture historians often write of stylistic development, wealthy owners, and "celebrity" makers. After all, elaborately carved tea tables are beautiful and speak to an owner's tastes and status as well as to the skill of their named maker. The physical features of a piece, its ownership history, and the name of the master cabinetmaker behind its production are not necessarily easy to get at, but they are far easier to study through documentary and physical evidence than the names and actions of each individual apprentice, journeyman, slave, and laborer who had a hand in its creation. The telling of history favors power.
To some, this is the problem with high-style 18th-century furniture: It symbolizes the power elite of a slave-owning society and is tainted by that association. This is undeniably true. Very few high-end pieces from the period are fully removed from the long reach of slavery. While I respect those who dismiss some work for this powerful reason, I also wonder if their logic mirrors the problem more than it should. In other words, by viewing the work primarily as a symbol of its owner's power or a society's ills, we continue the legacy of seeing the past only through the lens of the owner. Instead, when we shift the focus from owners to makers, slaves shift from being mere property to people. The result is an inclusive step toward a more complete history. As makers, we can use hand-wrought knowledge to find traces of enslaved makers through tool marks and other physical evidence. Objects in this view become animated, the sites of countless decisions and actions. For many past makers—enslaved or free, white or black, man, woman, or child—those traces are all that remain.
Not all African American woodworkers of the past are obscure figures among furniture makers and historians today. There is, relatively speaking, a wealth of documentary and material evidence of people like John Hemings of Monticello, plane maker Cesar Chelor, and North Carolina cabinetmaker Thomas Day. Most enslaved craftspeople, however, come down through history as a name in a few records, like Wiltshire, or remain locked in anonymity. To view furniture with our minds on these makers is challenging. We're accustomed to marveling at great furniture with pride and a hunger for inspiration. Those feelings are still present, but challenged by emotions not normally associated with old furniture: anger, sorrow, confusion, and so on. Of enslaved makers, we cannot set them free or ignore the realities of their time and place. What we can do though is seek to learn more about their lives and work. In doing this we not only honor our oft-forgotten predecessors, but we may also recognize something of ourselves in them. Like many of us, they were or were on the path to becoming very good cabinetmakers.
| | |
| --- | --- |
| | |
| | |