Preservation bias
The period furniture you see today is but a slim slice of woodworking's history—the wealthy slice.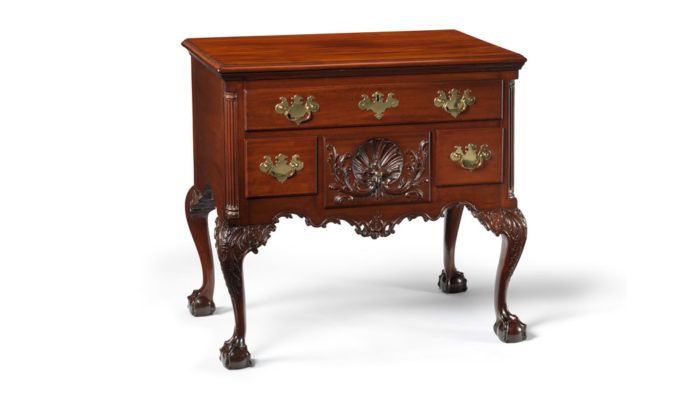 In any discussion about period furniture there is a historic concept that is critically important but often goes overlooked. That is the historic concept of preservation bias.
In its simplest terms, the idea of preservation bias is that not everything survives at the same rate into the historic record. This can mean that certain types of objects are over- or underrepresented by their surviving examples. A positive preservation bias means that a higher percentage of an object has survived into the historic record; a negative preservation bias means that a lower percentage of an object has survived. This can be caused by a variety of factors ranging from social pressures to environmental factors, as well as the utility or usefulness of the object to begin with.
Most decorative arts, such as furniture, are  subject to a heavy preservation bias. This is usually skewed toward the furniture and objects that were designed and built for the ultra wealthy and typically represent the highest level of quality craftsmanship and design from the period in which they were made.  So there is a strong positive preservation bias for high-end furniture and a strong negative preservation bias against working class and utilitarian furniture.
This bias toward the extreme high end of furniture making results from two factors. The first is a very practical force, and that is simply the fact that prior to the industrial revolution of the late 19th century, material was expensive, really expensive. Most historians agree that between 90% and 98% of the value of an object in the 18th century was the material that went into its construction.
This means that at the end of the useful life of a piece of furniture, the majority of people would reuse the wood. Once that piece is taken apart to be reprocessed into something else, it is lost from the historic record. This skews the preservation bias. This effect is multiplied by another factor—firewood. In a world that heats and powers itself exclusively with wood, furniture that could no longer be reprocessed into other useful objects would have what little value it had left salvaged in the form of the heat it could create for the working-class people who had owned it.
Now this leads to the second reason furniture is subject to such a strong preservation bias, style and purpose. Consider  a mahogany Philadelphia highboy, for example. It's a superb example of American furniture, of course, but what, really, is its purpose? It's certainly not just a place to put linens and clothes. The purpose of ostentatious furniture like this is to project status and wealth. When the purpose of furniture is to display wealth, the risk of it being reprocessed into something else goes way down, lending a strong positive preservation bias. Furniture as a status symbol is nearly always preserved at a higher rate than furniture simply for utility.
I have always found preservation bias to be a fascinating and important idea. Take a moment to consider it when you next consider period furniture, and realize that what you are seeing is but a small representation of what once was.
---