Workshop Tip: Hang Wall Pieces with Monkey Hooks and Pocket Holes
Monkey Hooks and Gorilla Hooks are an easy way to hang shelving, pictures, and other wall art using pocket holes in the back of the frame.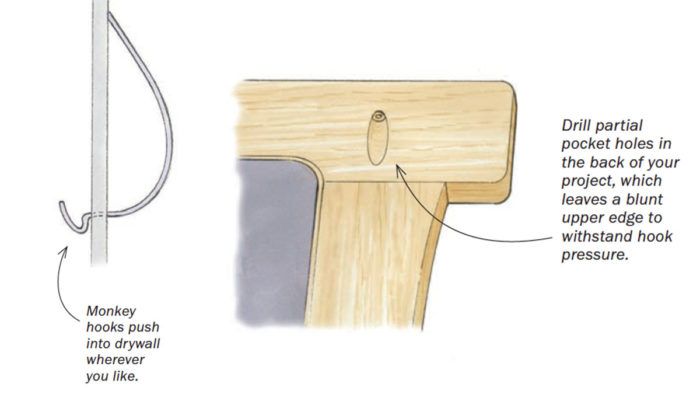 To hang projects flat against the wall, I use a product called Monkey Hooks, which simply push through drywall, supporting up to 35 lb. each. They also have a big brother, Gorilla Hooks, rated for 50 lb. These hooks let you hang shelving, wall art, picture frames—anything short of a heavy cabinet— anywhere you want, as long as the hole for the hook isn't directly over a stud.
To seat the ends of the hooks, I drill pocket holes in the back of the project, using a Kreg jig. The trick is to set the jig to drill only partial holes. Going to the usual depth leaves a knife edge that will be crushed by the hook.
—MIKE CYR, Westport , Mass.
Illustrations by Dan Thornton
From Fine Woodworking issue #280