On a Job Site, Improvisation Is the Name of the Game
If working on site has taught Nancy Hiller anything, it's how to think outside the box in order to get the job done.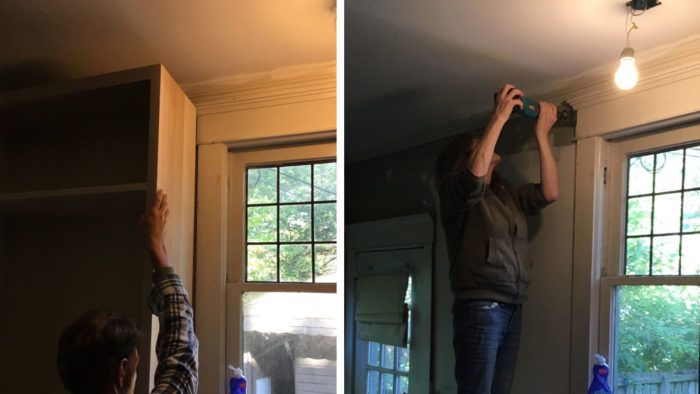 During the early years of my career, when I was employed by other woodworkers, my work was limited to the shop. Whether the job involved freestanding pieces or casework destined to be built-in, once the fabrication was done, someone else picked it up. I never met the customers. Delivery and installation were completely out of my hands.
It was only in my late 30s, nearly 20 years into my career, that I began to learn the kind of adventures built-in cabinetry can involve. Between such delights as working in rooms with walls, floors, and ceilings that are rarely square, level, or plumb; discovering electrical outlets hidden from sight that should have been killed at the panel during the last remodel–or, failing that, made accessible; finding that a four-foot stretch of wall appears to have been built with no intermediate studs (how are we going to hang this cabinet?); or learning that the hardwood on the floor was laid after the previous built-ins were installed (how will I avoid a sunken patch of OSB at the dishwasher recess?), I quickly realized that when you're working in the wilds of a jobsite, as distinct from the controlled conditions of a shop, improvisation is the name of the game.
I used to be completely beside myself on encountering such conditions, but gradually I learned to roll with the punches. Ideal conditions are rare; challenges are the norm. A pair of sawhorses combined with a couple of light-pattern Jorgensen clamps will make a perfectly good work-holding set-up for many tasks. A straight-edge, router, and pattern-cutting bit will remove material from the top of a door in a flash, no vise or hand plane required. And when you grab your trusty jigsaw, only to find it's given up the ghost…well, there's nothing to be done but get thee to the nearest hardware store and buy another. As time goes on, you learn to anticipate (i.e., develop a neurotic tic that predisposes you to imagine) likely problems and develop a list of basic tools, small machines, and versatile props such as scraps of plywood and solid lumber, along with a variety of screws and other fasteners you might need. Still, no matter how thoroughly you think you've prepared, there will almost always be some new condition that pops up–and it will be your job to figure out how to handle it. If working on site teaches you anything, it's how to think outside the box in order to get the job done.
My most recent installation was for a kitchen in Indianapolis, a drive of about 60 miles each way from my shop: two basic cabinets, each consisting of a base cupboard with a counter I'd made from reclaimed heart pine, topped with a four-door upper section, and a shallow wall-hung cabinet for spice jars and other small containers. The first step was to deliver the parts and get them installed; then I would return to fit the doors and drawers, shelves, and other parts.
I'd planned to use a standard crown moulding, following the pattern of an old cabinet the client and I used for inspiration. All was going smoothly until my helper and I heaved the 6′-tall upper section of the first set into place and fastened it to the wall. Standing back to check how it looked, I realized it was closer to the top course of window trim than I had remembered; when measuring, I had only taken account of the window casing at the side, not the extra 1-1/2″ or so sticking out at the top, a two-part moulding that formed a simple crown.
Moving the cabinet to the left would have left a thin strip of wall between the window trim and the cabinet side that would make me the bane of the painter's life. Beyond this, there would have been three different crown mouldings coming together in the space of 9 square inches–the room crown (a large profile, not original to the room but apparently added during an earlier remodel), the top trim of the window, and the moulding on my cabinet. After chewing myself out for not having anticipated this cluster of converging crowns, I turned to the constructive task of problem solving. I discussed my proposed fix with the client, then here's what I did.
Step 1: Never say never
I make a point of designing work that will respect a room's original trim. Few things are less appealing than a truncated crown, or a door casing with a huge cut-out made to accommodate a Formica counter.
Beyond this, there's a school of thought among preservationists according to which original architectural fabric should remain intact wherever possible. In this case, however, the most graceful solution seemed to lie in making the cabinet flush with the window–after all, both would now be part of the room's integral millwork, and the heights worked out well. So my first step was a prayer to the old-house gods requesting forgiveness. Then I removed the protruding sections of trim with a Fein oscillating tool.
Step 2: Cozy up
I used a level to extend the line of the window casing down the wall. Next we moved the base over to the line (it was a matter of just over an inch, so my careful scribing of the flush kick and side panel to the floor were still, thankfully, a good fit) and fastened it. We put the upper section on top and screwed it to the wall with cabinet fasteners.
Step 3: Reproduce the trim
I took a section of the compound trim from the top of a door back to my shop and milled up enough for both of the cabinets. I also made enough of the lower section to use as a crown for the spice cabinet, which is quite a bit smaller than the others and so demanded a more diminutive profile.
Step 4: Install
My husband, Mark, who is a builder and trim carpenter, joined me on a snow day. While I fitted doors and drawers, he installed trim, coping the moulding where the cabinet crown meets the window. It looks like part of the original millwork–not part of my plan, but a happy result of jobsite improvisation.
-Nancy Hiller is a professional cabinetmaker who has operated NR Hiller Design, Inc. since 1995. Her most recent books are English Arts & Crafts Furniture and Making Things Work, both available at Nancy's website.
Addendum from Nancy: I couldn't imagine replying adequately in the comments here–there's too much to address. So I wrote a new post at my own blog.