To build or to buy?
For professional woodworker Nancy Hiller, it's cheaper to buy a workbench than it is to make one.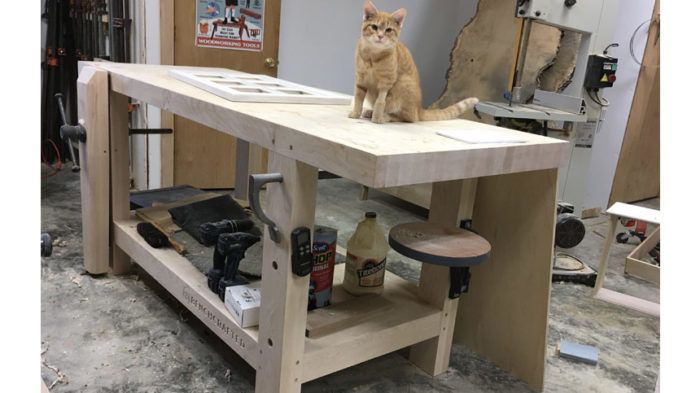 Every so often a visitor to my shop remarks "Nice bench. Did you make it?" No, I say; I had it made by Benchcrafted. A look of puzzlement crosses the visitor's face, as though he or she is wondering What kind of woodworker buys a bench instead of building it for herself?
Answer: a professional.
Could I have built my own bench? Of course. My secondary bench is one I built in 1989. It's sturdy and has a good Record vise that's now 30 years old. But as I've followed the bench-building exploits of Christopher Schwarz and others, I've thought about making a better bench for my shop. And yet I've never done so. Why? I'd rather spend my best hours on jobs for clients. Those tables, chairs, kitchens, and bookcases are my livelihood.
If you run a bona fide business, the tools and equipment you buy for business use are tax-deductible according to federal and state laws. As I reviewed my bookkeeping records toward the end of 2018, I realized I could afford to order one of the benches I had coveted. Not only would I get a bench with a vastly superior vise and other work-holding features; I would also be doing my part to support a business I've long admired. Spending money on a quality workbench (or any other well-crafted piece of equipment) doesn't have to be viewed simply in terms of cash outflow; it can also be seen as supporting our fellow craftspersons. Other enviable workbenches are made by Frank Strazza and Mark Hicks, who also sells shavehorses.
And there are other furnishings you might consider buying if you've been planning to build them, yet haven't found the time. Several appear on the Benchcrafted site; the MagBlok is one of my favorites for keeping tools handy. As someone who thrives on color, I've drooled over the spectrum of milk-painted tool chests made by Megan Fitzpatrick. Megan not only teaches classes on building the Dutch tool chest and Anarchist's Tool Chest made popular by Chris Schwarz, but also builds chests to custom dimensions with customized interior fitments.
Anyone familiar with my writing knows that I do my best to correct the many fantasies and misperceptions surrounding what it means to make a living as a woodworker. The matter of whether a "real professional" builds or buys shop fittings such as those mentioned here is just another piece of that picture.