Versatile Bench Design
The Center for Furniture Craftsmanship uses this workbench design as the basis for a router table, a drafting table, a sanding station, and more.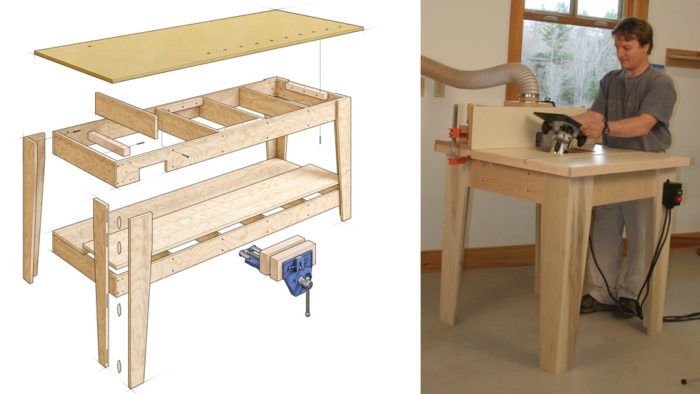 The Center for Furniture Craftsmanship (CFC), a woodworking school in Rockport, Maine, is renowned for its teachers and students—and the artful, often complex furniture they come up with. Yet much of it, from drafting to construction to finishing, is done on a fleet of no-nonsense work surfaces that share similar bones.
Mason McBrien, a former facilities manager and instructor at the school, uses this design in his article "Build a Simple and Stout Workbench," built with some plywood for the base, an MDF top, and a vise with hardwood jaws for good measure. Some of these benches at the school have been in service for decades, a testament to their reliability, considering how many students use these yearly. But as the article notes, the options don't stop at workbenches. Simply by changing the dimensions a bit—easily done thanks to the design's torsion-box construction—or the material for the top, and you can reskin the bones for a whole other purpose.
For one, the bench is easily converted into a router table. In fact, J. Peter Schlebecker, another CFC alum, writes about building and using one in his article "Rock-Solid Router Table." By lengthening the legs, making the aprons nearly equal length, dropping the shelf, and covering the top in laminate, he ends up with an excellent router table.
By keeping the build rectilinear, you can make a pair of workshop luxuries much more accessible: a sanding station (just nix the shelf) and an assembly/drafting table, which, thanks to its melamine top, is easy to clean.
Another benefit of the torsion box design is that it's likely to stay flat, making the build worthy of consideration for a vacuum press table, like the one below.
So take a cue from CFC and use this design to get more from your shop time. The options abound, and as you can tell from the photos, this prestigious school has returned to the design again and again, making it a familiar sight there.