Add a Bead to a Curved Apron
Mike Korsak demonstrates his technique using a two-part bending form and shopmade bead stock from six layers of rosewood veneer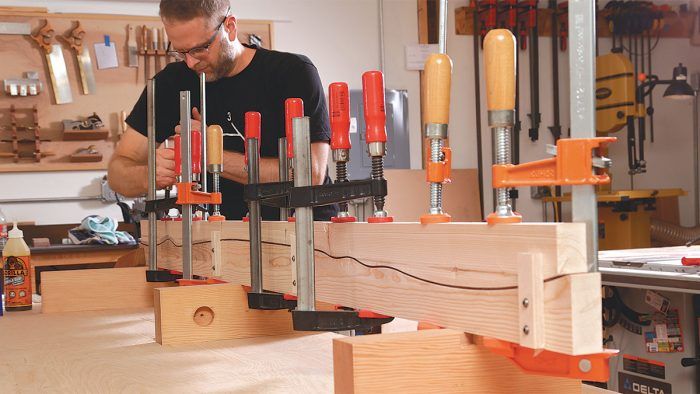 Synopsis:  Faced with the challenge of creating a bead for the bottom of a chest apron with undulating curves, Mike Korsak decided to make the bead as a bent lamination. This ensured a precise fit and the ability to match any series of bumps and curves. So he built a two-part bending form and made the bead stock from six layers of rosewood veneer.
---
For a recent chest of drawers, I designed aprons whose bottom edge ripples in a series of asymmetrical, flowing curves. To accentuate the curves, I decided to apply thin beads of contrasting wood to the bottom edge of the aprons. The challenge was how to make beads that would conform to the sinuous profile.
I considered cutting the beads from solid stock and using a hot pipe to shape each bead to its apron. I also thought about using steam to make solid bead stock pliable, and then pressing the stock in a bending form. Either of those approaches might have worked, but I wondered how precise the fit to the apron would be. I decided instead to make the bead as a bent lamination. I built a two-part bending form and glued up six layers of thin rosewood veneer (purchased online) to yield beads that exactly matched the apron's every squiggle. Once the bead was made, I rounded its front edge and glued it to the apron.
Template shapes the apron and the bending form
I used a template made from my full-scale drawing to help shape the apron and the bending form. After roughing out the design of the apron's bottom edge in freehand sketches, I refined it using drawing bows, French curves, and an adjustable curve. When I had the final design, I made the template by cutting out the drawing and gluing it with spray adhesive to a 5/16-in.-thick piece of solid wood. I cut nearly to the lines of the drawing at the bandsaw, and cleaned up the curves with hand tools.
From Fine Woodworking #278
To view the entire article, please click the View PDF button below.
View PDF