Curved Beading Along a Scalloped Apron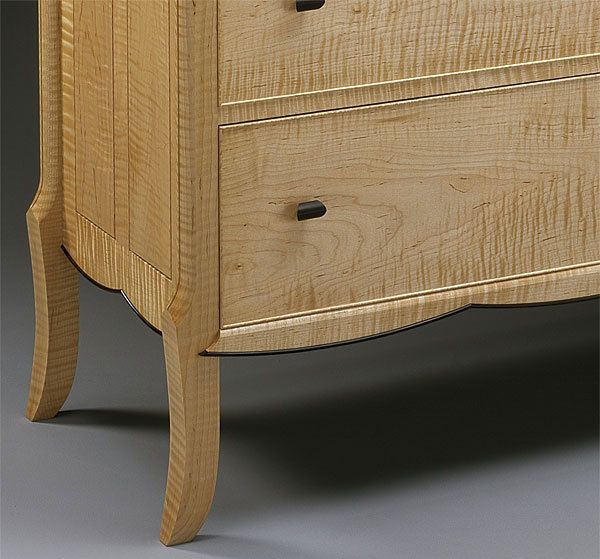 The curved ebony bead along the lower edge of Peter Shepard's bureau (back cover FWW#221) punctuates the graceful scalloped apron. Shepard makes the bead in arced segments—four across the front and two on each side—by laminating strips of ebony veneer. He glues these into a rabbet on the bottom of the apron. The front apron is not structural, but is face-glued to the bottom front rail of the carcase.
Make the curved bead
Ebony veneer becomes a bead. Shepard glues nine strips of ebony veneer between curved cauls to make each 3⁄16-in.-thick segment of bead (he made both cauls at once from a single piece of MDF using a router on a long trammel arm). Once the bent-laminated bead is cured, Shepard uses a handplane inverted in a vise to joint one edge of the bead.
The bead rests in a rabbet. Shepard creates a rabbet by first routing a scalloped groove along the maple apron, using an MDF template and bearing-guided bit (left). Then he bandsaws the waste, leaving a rabbet.

Inlay the bead into the apron

Gluing the bead. After cleaning up the rabbet with a chisel, he begins the glue-up by dry-clamping one bead segment and gluing in the one beside it.