Tool Review: Convertible Benchtop Router Table by Rockler
Ben Strano takes a close look at Rockler's clever stow-and-go router table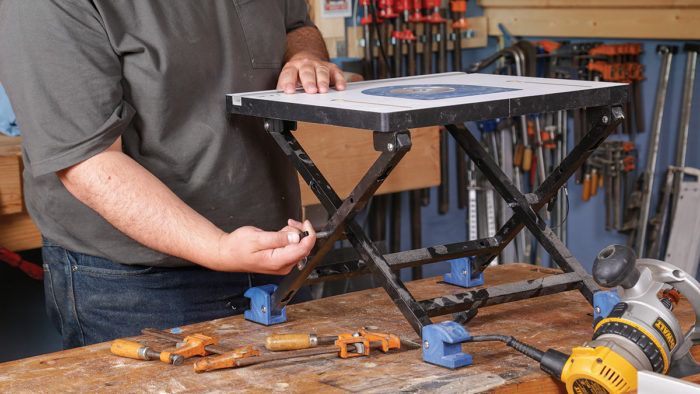 While I don't consider my shop small, it's small enough to become easily cluttered. I have gone through painstaking measures to make sure that I am able to keep the space clean and easy to work in. Part of this meant giving up tools that I didn't deem a necessity. I use my drill press far more often than I use my router table, so I turned my full-size shopmade router table into a drill-press table—a tough decision. But for the past few months, the Rockler Convertible Benchtop Router Table has made the tradeoff easier.
The router table fits compact and midsize routers, and can be used on a bench or mounted to a wall. On a bench, the table was very stable, and the design makes it easy to clamp down. Mounted on the wall, the front legs lock into the back, making a secure surface for routing. When you need more room, you can easily fold the table out of the way. When the table is mounted to the wall, however, there's very little room for a dust collection hose.
The last element to Rockler's design is an insert plate that can stay on your router, which gives you a larger baseplate when routing by hand. Rockler sent us both a compact plate, for trim routers, and a midsize one. They each have an array of mounting holes, allowing the plate to fit a variety of routers. But I wish there was a guide to which holes to use for common manufacturers.
There is a trade-off to Rockler's design, though, when the plate is in the table. The plate is square on one end and circular on the other and the circular side has only one adjustment screw to keep the plate flush to the tabletop. This allowed the plate to pivot and tilt a bit when passing stock over the table—a minor nuisance.
Also, the plate for the trim router doesn't have interchangeable insert rings. The router is mounted directly to the ring, which proved to be too small for even a small 1⁄2-in. roundover bit. All in all, though, this router table is a nice addition to the shop, especially if you're tight on space.
—Ben Strano is FWW's digital brand manager.
From Fine Woodworking #277