Workshop Tip: Tool-Storage Magnets Hold Handsaws for Sharpening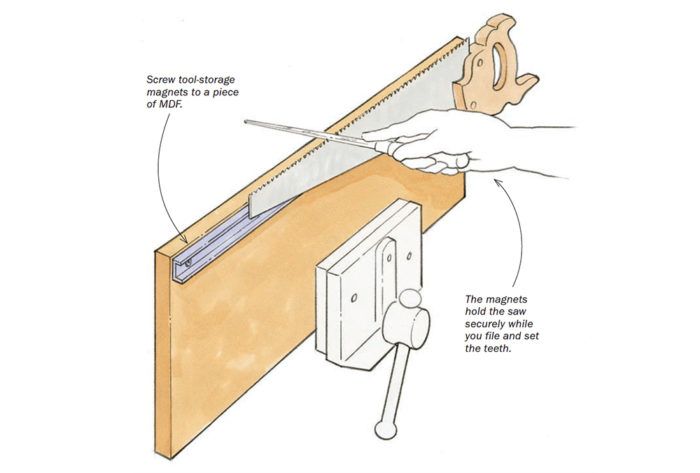 I recently acquired several vintage handsaws, all in need of sharpening. I needed a reliable way to hold them while filing and setting the teeth. Commercial saw vises are pricey, and the usual shopmade solution—clamping the blade between two boards—limits my file stroke. My solution was a piece of MDF and two tool-storage magnet bars that cost $4 each at Harbor Freight. The magnets hold blades tightly while filing—without flex or vibration—and the working height is easily adjusted. Two 18-in. magnets fixed end to end will hold saws of all lengths without the shifting required by most saw vises. As a bonus, the metal filings collect on the magnets and are easily wiped off into the trash. To store the jig, stick it to any metal surface.
—DANNY JULIAN, West Frankfort , Ill .
Illustrations by Dan Thornton
From Fine Woodworking issue #277