Solid Edging for Curved Tops
Craig Thibodeau demonstrates how to get a durable, beautiful edge and a flawless fit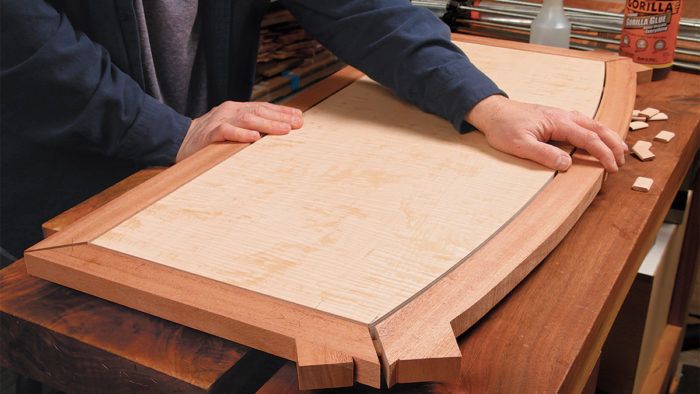 Veneered panels sometimes need a more durable edge than veneer alone can provide, such as when they are used for chest lids, tabletops, or desktops. In situations like this, Craig Thibodeau goes with a solid-wood edging that is easily shaped and repaired, and highly resistant to abuse. Square panels are pretty easy, but when you add a curved edge it gets trickier. Here, he demonstrates his foolproof method for making curved edging with mitered corners that fits perfectly.
---
While I often use veneer to edge veneered panels, whenever those panels need a more durable edge to withstand regular contact—such as chest lids, tabletops, or desktops—I go with a solid-wood edging. Solid wood can be shaped and repaired easily, and it's far more resistant to abuse than a veneered edge. The solid edge also adds a handsome detail, whether you've matched and applied the central veneers yourself, as I do, or you go with nicely veneered hardwood plywood.
Adding a solid-wood frame is easy on straight edges but gets trickier on curves. But that doesn't have to stop you. I have a simple method for shaping the edging to fit the panel precisely. The more time you spend fitting, the better the joints will be. But an absolutely perfect seam isn't always necessary. I often add a thin stringing or banding, centered on the joint, which hides minor gaps and adds another decorative detail. If your design looks better without the inlay, just keep fitting until the tiny gaps are gone.
You can use these techniques for a variety of curved shapes, from full circles to gently curved edges. But they must be single-radius curves, like an arc of a circle. For more complex curves, I use a spindle sander and compass plane.
I almost always make the edging thicker than the panel to avoid the standard 3⁄4-in. dimension of factory sheet goods. I glue it on so the edging's top face is slightly proud of the panel, and sand it flush afterward. Because it overlaps the bottom of the panel by 1⁄8 in. or more, I pre-sand that side before gluing on the edging.
From Fine Woodworking #277
To view the entire article, please click the View PDF button below.
View PDF