Tool Test: Cordless Trim Routers
We take a look at the Bosch GKF12V-25N 12V MAX EC, DeWalt DCW600B 20V MAX XR, Makita XTRO1Z 18V LXT, Ridgid R86044B, Ryobi P601 18V ONE+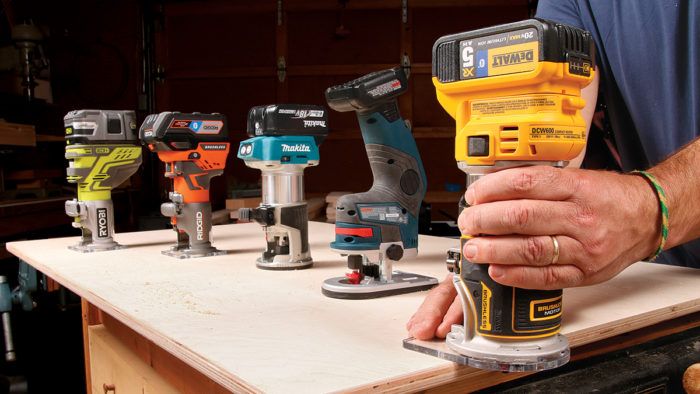 Synopsis: We take a look at the five cordless trim routers on the market, testing them for battery power, balance and control, visibility, bit adjustments and changes, and quality of cut. Ultimately, we found that the smallest available battery for each tool had more than enough power to do the kinds of jobs we want to do. We found three particularly strong performers among the pack.
Tested: Bosch GKF12V-25N 12V MAX EC, DeWalt DCW600B 20V MAX XR, Makita XTRO1Z 18V LXT, Ridgid R86044B, Ryobi P601 18V ONE+
---
While battery power makes any power tool more convenient, with a router cutting the cord improves safety and cut quality, too. Without the troublesome tether dragging behind and catching on corners, your pace and your path are steadier, and you can focus your hands and eyes on the work. The perks are especially apparent on a trim router, a tool built for agility and control that can still stand up to most router tasks shy of full-size mortises and big molding profiles.
There are five such cordless routers on the market today, and while all performed well under my tests, not all of these tools were created equal.
Run time is not a factor
As far as real-world applications go, the tools' batteries are so robust that I recommend going with smaller ones with less capacity. As with many cordless tools, you have your pick of battery sizes based on the amount of amp-hours (run time) packed into each. Worried a little about the routers' stamina, I went with big batteries, between 5 and 6 amp/hr. These were overkill. They gave the routers so much run time that I got tired before they did. After routing a deep molding profile in 144 ft. of hard maple (that's 24 6-ft.-long boards), even the Bosch, the model with the lowest voltage, was still going strong. The big batteries also had an immediately obvious downside—they made the routers top-heavy— which was especially noticeable on narrow edges. Luckily, I also had smaller batteries for most of the routers. These improved balance without sacrificing power. A large shopmade base could help too. In fact, some of these routers suffer from undersize bases, so I'd consider making my own base for them regardless of the battery I was using.
Even with its smallest power packs, every router was still able to cut that deep profile along at least 60 ft. of hard maple with a single charge. So for most people, I recommend smaller batteries. You'll get the same power, plenty of run time, plus excellent control—the main advantage of a trim router in the first place. The exception is the Bosch, whose 6-amp/hr battery is so small it has little to no effect on that tool's excellent balance.
Tough tests divide the pack
With run-time a non-issue for common tasks, the tests came down to balance and control, visibility, bit adjustments and changes, and power. I checked quality of cut too, but all the routers performed equally well. I also didn't weigh whether a router had adjustable speed. Trim routers work best with smaller bits, so having adjustable speed, a benefit with large bits, was moot.
The verdict
The Bosch, DeWalt, and Makita routers are standout performers. I recommend these without reservation. In choosing among them, consider that you can save serious cash by buying the bare tool (without a battery or charger) that matches the batteries you already own. As to the Ridgid and Ryobi routers, they work well enough but have more downsides.
BOSCH GKF12V-25N 12V MAX EC
Price: $150 for bare tool; $203 for tool plus 2Ah battery and charger
Power: Good
Cut Visibility: Very good
Control: Excellent
Bit changes: Excellent
Depth adjustment: Very good
The Bosch's compact, curvy shape and long base give it unmatched control. At the same time, its brushless 12-volt motor is capable and smooth, slowing only on the heaviest test cut. Better yet, because of its batteries' small size, this is the only router that doesn't trade balance and handling for run time. Its base is the most open by far. It doesn't have LEDs, but it doesn't need them.
The spindle lock is hands-free. Depth changes are quick and precise, though the fine-adjustment wheel can be a little hard to spin when the base gets close to the motor.
DEWALT DCW600B 20V MAX XR
Price: $180 for bare tool; $314 for tool plus 2Ah battery and charger
Power: Excellent Cut visibility: Excellent
Control: Very good
Bit changes: Fair
Depth adjustment: Excellent
Equipped with the standard fixed base, this smooth, powerful router felt very solid and stable. It also benefits from the excellent depth-adjustment system used on all of DeWalt's fixed-base routers. For visibility, it has two LEDs that flood the work zone.
My only quibble is that bit changes are somewhat troublesome. The base is a little sticky going off and on, and the motor can be hard to hold firmly on the bench with the same hand that's holding down the spindle lock, while you turn the single wrench with the other.
MAKITA XTR01Z 18V LXT
Price: $130 for bare tool; $228 for tool plus 2Ah battery and charger
Power: Excellent
Cut visibility: Excellent
Control: Good (with standard fixed base)
Bit changes: Excellent
Depth adjustment: Fair
The Makita had the strongest, smoothest motor. It's also the only one to include both 1/4- and 3/8-in.-dia. collets.
Unfortunately, the standard fixed based is too small, making the tool feel a little top-heavy on narrow edges. One other slight drawback is the depth adjuster, which is simple and positive but slides too easily when unlocked, making precise changes difficult. On the plus side, the base comes off quickly for bit changes, with two wrenches offering strong, positive torque. The two LEDs under the base are very effective.
RIDGID R86044B
Price: $120 for bare tool; $140 for kit including 2Ah battery and charger
Power: Good
Cut visibility: Very good
Control: Good (with standard base)
Bit changes: Good
Depth adjustment: Excellent
The Ridgid is a mixed bag. On the plus side, the single LED is well-placed, battery changes are very easy, and the depth adjuster is excellent, making large moves quickly and small ones precisely. However, despite its brushless motor, the Ridgid stalled when pushed on the toughest cut. It also vibrated too much. This didn't affect cut quality but made the base less stable on freehand cuts.
The router is too large for the two small bases, round and square, included with it. This makes it feel a little wobbly on narrow edges.
RYOBI P601 18V ONE+
Price: $74 for bare tool; $130 for kit including 1.3Ah battery and charger
Power: Very good
Cut visibility: Fair
Control: Fair (with standard base)
Bit changes: Fair
Depth adjustment: Excellent
The Ryobi cut well, and vibration wasn't an issue. Its excellent depth adjuster is identical to the one on the Ridgid.
The main downside of the Ryobi is how tippy it gets as the batteries get bigger. Combined with a small base, this makes the router harder to control on narrow edges.
Bit changes are relatively easy, but the base is a little tricky to remount, leading to a "fair" rating overall. Last, while the Ryobi has one LED under the base, it's placed poorly (at least for righties), opposite the leading edge of most cuts.
From Fine Woodworking #277
To view the entire article, please click the View PDF button below.
View PDF