What's the Lead in Your Pencil?
Vic Tesolin is really picky about what pencils he uses in the shop, and he's narrowed it down to three that cover all of his marking needs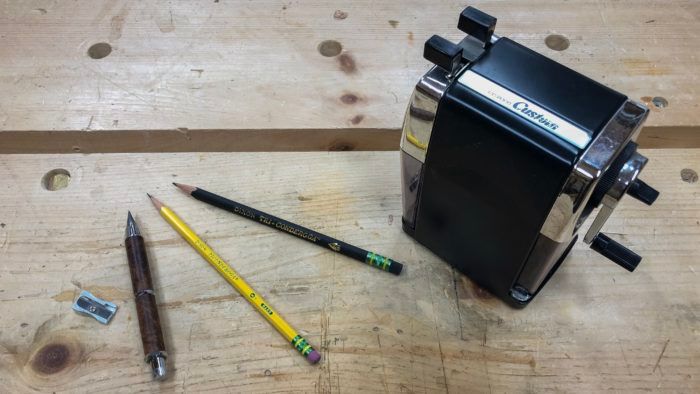 This post may hurt some people's feelings, but I feel it needs to be said. I really dislike mechanical pencils. There … I said it.
I don't like the feel of them. I don't like how the lead in them breaks all the time. Then, when you try to use them, the lead slips inside the barrel and then you have to click, like, 1,000 times to get the broken piece out. I just don't like them, nor do I trust them, so I don't use them.
And that's just on paper. They are even worse on wood, so I'm a big believer in the good old wood-cased pencil. To be fair, I'm a bit of a stationery nerd. I love pens and pencils and pencil sharpeners and highlighters and 3-hole punches. I'm really picky about what pencils I use in the shop. I've tried almost every pencil on the planet, and I've narrowed it down to three favorites. I am also prone to hyperbole so keep that in mind.
In my shop, pencil lines come in three sizes: thick, medium, and fine. Thick lines are what I use on rough lumber to mark out parts that will come out of a board. For this, I use what has been mistaken in the past as a mechanical pencil, but it's not. A lead holder does just that. It holds a long, thick piece of lead to make it easier to mark with.
Now, I know that some of you are already rolling your eyes and remarking that I'm cracked. What's the difference between a mechanical pencil and a lead holder? The difference is that I don't use mechanical pencils, but I do use a lead holder… back to the story.
I use a soft lead (4B) and it leaves thick, dark lines on most woods, making it perfect for the task. The diameter of the lead is a whopping 5.6mm (that's around 1/4 in. for those of you still using imperial) and I rarely sharpen it because I'm not looking for a precision line. I use this pencil in lieu of a carpenter's pencil because I find that there is a lot of variation in the hardness of the lead with carpenter's pencils, so they are not predictable.
My next pencil is a good old HB. I like the #2 HB Ticonderoga mostly because it is triangular in profile and has a slightly larger diameter that fits nicely in my large paw. Before any of you cry foul, I'm not receiving payments from the folks at Dixon and this isn't a thinly veiled advert for anyone. I like the pencil, and as far as I know, no one else makes them. (However, I wouldn't say no if a gross of these pencils turned up at my door.)
Finally, and most importantly, is the pencil I use for fine lines. These lines are used to indicate locations for joinery so they have to be dark, clear, and thin. This is where most people would grab a mechanical pencil. I find the #3 H Ticonderoga is the best for these qualities. The #3 H leaves a dark line, and the added hardness makes it so the pencil doesn't blunt easily. You can get even finer lines out of this pencil if you use a long-point sharpener. Unless you are sharpening a mascara pencil, I feel that all pencils should have a long point – they just last so much longer that way. They will also slip into knife lines to help you see them better, a big plus if you have more experienced eyes.
The pencils I've mentioned are easy to find and are inexpensive so they won't break the bank. The lead holder that I have is a pencil kit that you can easily turn to make your own custom variety. So, say goodbye to broken leads, and stringing together expletives when it happens. Whether you are making bold, inaccurate marks or fine lines for joinery, remember that your woodworking will only be as good as your marking. Take the time to find your favorite pencils but for the love of wood, leave the mechanical pencils in the desk.
-Vic Tesolin
| | |
| --- | --- |
| | by Tom Fidgen |
| | by Rollie Johnson |
| | |