Sharpen that Pencil!
The most important skill we need to learn as woodworkers is sharpening. So let's talk about pencil sharpening!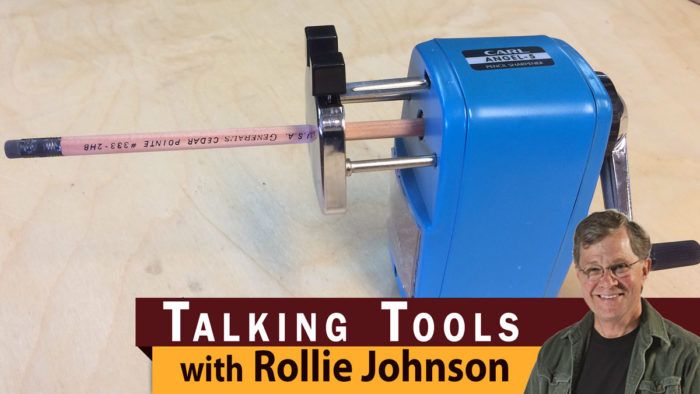 The most important skill we need to learn as woodworkers is sharpening. Keeping our chisels, planes, bits, and other edge tools sharp is what makes us accurate whether we are crafting a precisely fitting joint or creating a beautifully flat and smooth surface. But there is one more sharp tool in our arsenal that's nearly as important, and that's our marking device, in particular, our pencil. Though a marking knife is preferred for very precise joinery, for most general marking the pencil is still king and having the ability to quickly and consistently sharpen a pencil is important. So let's talk about pencil sharpening!
Go ahead, have a good chuckle—I'm writing a blog about a pencil sharpener. But I figure if we can do a whole article about tape measures we can do at least one blog about a pencil sharpener.
Back in my days of carpentry, I used to sharpen my pencils with a block plane. It's actually pretty fast with practice but the inconsistency of the point makes this method less than stellar. The faceted pencil end does look pretty cool, though.
Of course many of us have the old wall-mounted, hand-cranked, double-helical sharpener with the phone-dial pencil sizer so you get the right support for any pencil diameter. Guess there must have been a lot of different-diameter pencils available last century. In good condition, the helical cutters do a great job of shearing but the wobbly support, and usually decades of use, render these to the maybe/maybe not category when it comes to getting a good point.
The little plastic sharpeners with the razor-blade-style cutters are great for kindergarten or crafters, but they often fall by the wayside when it comes to making a good point. I have heard legends of superior sharpening. (Ha!) And who among us can resist the siren song of an electric sharpener? I like electricity.
But the real bomb is my Carl Angel-5 sharpener. It's just too cool. The cutter is the tried and true double helical just like the old-timers, but what makes it work so well is a spring-loaded clamp that extends from the body of the sharpener and holds the pencil as it's being sharpened. Turning the crank handle releases the clamp from its stop and spring tension and a pair of rods guide the pencil securely until the cutters have finished making a perfect point, every time. Nirvana in an angel-blue package. I know my enthusiasm seems downright nerdy and with April 1 just around the corner you may be wondering … But seriously, it is the best sharpener I've ever used and being portable with little rubber feet so it doesn't slide around, it's the ticket, and that's the point.
OK let's hear what you folks use to get the point. Snarky comments are fine, except from Matt.